The Interview of Corporate R&D, Development Committee Chair
Research Development
The Interview of Corporate R&D, Development Committee Chair
R&D policies
Remain committed to unique core technologies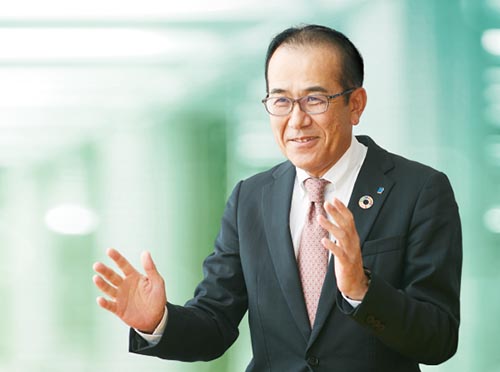 Although the NGK Group Vision presents us with a new path forward for the NGK Group, the aim of our research and development remains to develop ever more advanced material and process technologies with a focus on fine ceramics while continually creating new and competitive products. It is the job of Corporate R&D to keep coming up with products that will enable us to continue growing via carbon neutrality and digital society-related business once gasoline-powered automobile business and other internal combustion engine automotive-related business have passed their peak.
The business fields that attract attention are changing rapidly, and technological innovation in the market is also picking up speed. In order to adapt to this situation, we must increase the number of research and development themes that we are working on, as well as accelerate the speed of that research and development, as we pursue a strategy of open innovation. At the same time, however, we will continue to carefully invest time and resources into developing the unique core technologies that are NGK's greatest strength.
Recent results
EnerCera goes into mass production, and gallium nitride (GaN) wafer samples start shipment
One of the research and development success stories of fiscal 2020 is our EnerCera lithium-ion rechargeable battery. These thin, flexible, pouch-type batteries have now gone into mass production for use in multifunctional credit cards and automobile card keys. Additionally, we anticipate adoption of EnerCera for various types of smart cards, logistics-related IC tags and other IoT devices, wearable devices, and numerous other applications. Mass production of coin-type EnerCera batteries able to withstand temperatures of up to 105°C began in the first quarter of fiscal 2021, while a lineup that includes batteries able to function at temperatures of up to 125°C is expected to go into mass production during fiscal 2022. In tandem with this is the development of power systems and other systems and devices, which is being carried out in collaboration with IC manufacturers and device manufacturers. These are ultimately intended for joint sale to IoT device manufacturers and other end product manufacturers.
As for new bonded wafers, which utilize the technology in our bonded wafer for surface acoustic wave (SAW) filter, we are working to apply them to new SAW filters for 5G communications and optical devices for optical networks and data centers. These wafers are scheduled to go into mass production from next fiscal year.
We have begun providing samples of our gallium nitride (GaN) wafer for laser light to facilitate interest and adoption in the even larger market of power semiconductors. We will work closely with the device makers who are our customers to develop two types of wafers: a four-inch wafer for high-frequency applications and a six-inch wafer for high-power applications.
We are also currently performing demonstration testing at oil fields in Texas, U.S. of subnano-ceramic membranes capable of CO2 separation and capture. The development of this technology will also facilitate CO2 capture at power plants and production sites and represents a potential area of significant carbon neutrality-related business growth.
New Value 1000
Aiming for 100 billion yen in sales from newly launched businesses
Our research and development will contribute to the realization of the NGK Group Vision by setting the New Value 1000 target. Essentially, New Value 1000 involves achieving 100 billion yen or more in sales from newly launched businesses by 2030 and increasing research and development expenditures to 300 billion yen over the next 10 years, with 80% being allocated to carbon neutrality and digital society-related areas.
With regard to carbon neutrality-related business, we are developing subnano-ceramic membranes for use in CO2 capture, utilization, and storage; various storage batteries, such as zinc rechargeable batteries for use in renewable energy applications; and solid oxide electrolysis cells (SOEC) essential for high-efficiency synthesis of fuel and base materials from captured CO2 and water. With regard to power semiconductors that achieve high energy efficiency and are used in EV power sources, we are expanding the application of gallium nitride (GaN) wafers by increasing their performance, as well as developing DCB and AMB substrates that use silicon nitride materials with high thermal conductivity.
With regard to digital society-related business, in addition to expanding applications and sales of EnerCera, we are developing new bonded wafers suited to new applications, such as optical computers and quantum devices. We are also working on next-generation susceptors for semiconductor manufacturing equipment, a large market, and ceramic packages for self-driving and other applications.
The top priority in all of the development we are undertaking is to ensure we put the NGK Group's unique technologies to use in differentiating ourselves from the rest of the market. It is essential that we invest the time necessary to further develop these unique technologies, but also work to accelerate the pace of research and development overall.
Moving forward
Maintaining a sense of urgency about technological development that leads to competitive new products
We have begun focusing serious attention on a development method known as materials informatics. The aim of this method, which involves creating databases of accumulated testing results and then having AI analyze them, is to make it possible to develop innovative ceramic materials in a short period of time. The fact that the NGK Group has a century's worth of accumulated testing data makes us well suited to this method. We have finished digitizing this testing data, and we are now working on converting it into structured data suitable for analysis. This is being undertaken as a company-wide project involving not just Corporate R&D but also Corporate Manufacturing Engineering and the new Digital Transformation and Innovation Department. Results will be confirmed over a one-to-two-year period. Even if it takes 10 years, we will establish the technology. This method is already being utilized for organic materials, but many uncertainties and significant challenges remain with regard to its application for ceramics.
It is also important that we pursue open innovation. We will begin by doubling the number of joint research projects that we carry out with universities and research institutions, which currently numbers around two dozen, introduce technology from outside the NGK Group, and pursue joint development with companies that are working on developing devices like EnerCera. We are looking at equipping our other business sites with facilities like the ID-Room, which we set up at the NGK Head Office in order to facilitate this sort of development. In April 2021, in partnership with the Nagoya Institute of Technology, we established the NGK Environment Innovation Laboratory on the university's campus in Nagoya. We have begun work on the next generation of innovative products, like power semiconductor materials and high-performance storage battery materials.
We are also actively expanding the number of personnel that we have in research and development. In the past, once the research and development team had finished a prototype, the production engineering team would begin work on designing a pilot plant. Moving forward, in order to facilitate an efficient transition to mass production without the need for reworking, we are instituting a project system that ensures personnel familiar with both product design and manufacturing are involved in development from the basic process design phase.
Note: This interview was conducted in May 2021.