Expectations for temperature monitoring during transportation by smart logistics
Smart logistics aims to improve the efficiency of logistics and reduce the environmental burden by using the latest technologies such as the internet of things. By attaching wireless radio tags to shipping items, returnable containers and other items and connecting them to the internet, it has become possible to track pieces of cargo and perform unattended sorting.
One of the most promising applications in recent years is in the "cold chain," in which pharmaceuticals and food products are transported in a refrigerated or frozen state from the place of manufacture to the place of consumption. As GDP (Good Distribution Practice) for pharmaceuticals and HACCP (Hazard Analysis and Critical Control Points) for foodstuffs require strict temperature control, wireless tags integrated with temperature sensors can be used to monitor and record the temperature during transport.
The EnerCera battery can be embedded in a small, thin tag and has high output even at low temperatures
However, until now, there were no small, thin tags that could be used in the cold chain. The bottleneck has been the batteries that are built into the tags. Existing dry cell and button cell batteries quickly lose their output power at low temperatures, making the tags unstable. If bigger batteries are used to compensate for the drop in output, the tags become too large.
NGK's postage stamp-size rechargeable battery, the EnerCera battery, solves this problem. The EnerCera is a small and thin version of the widely-used lithium-ion battery that incorporates NGK's proprietary ceramic technology, and despite its small size, it can store a lot of electricity and maintains a high output even at -40°C.
NGK innovates the structure of the positive electrode to realize the ideal battery
This battery, which has many advantages, was created by improving the structure of the positive electrode. To boost the performance of lithium-ion batteries, it is important to speed up the flow of ions in the positive electrode, which is why NGK focused on the structure of the positive electrode. Conventional battery positive electrodes are made by mixing lithium cobalt oxide powder (a collection of very small crystals) with an organic binder and solidifying it, but the crystals are oriented in different directions, making it difficult for ions to enter or leave.
To solve this problem, NGK developed a positive electrode consisting only of lithium cobalt oxide without any organic binder and with the crystals oriented in the same direction (this is called a "crystal-oriented ceramic plate"). This enables ions to move at high speed, resulting in high output. Even at low temperatures, the output hardly drops. Moreover, since no organic binder is added, the amount of electricity that can be stored in the same volume is greatly increased. The result is a battery that is ideal for cold chain tags.
Crystal orientation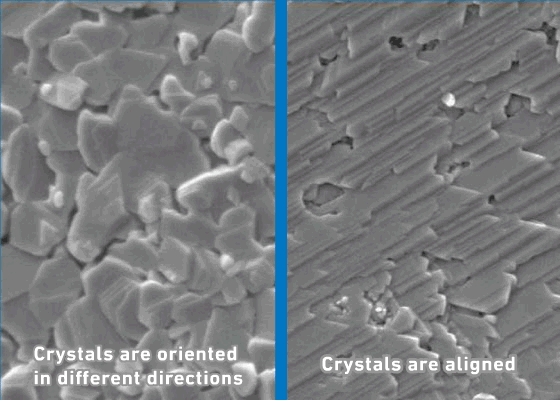 Various charging methods; pouch type can be bent
These batteries can be easily recharged using sunlight or indoor light, or by a microwave power supply, which is currently under development. Therefore, there is no need to replace batteries, as with dry cells, and the environmental impact is greatly reduced. The EnerCera battery comes in two types: pouch type, which can be bent, and coin type. It will soon be possible to order wine from a wine producing region and have it report the temperature during transport, via a tag attached to the bottle.
*EnerCera is trademark of NGK INSULATORS,LTD., registered in the U.S.
EnerCera compact rechargeable lithium-ion battery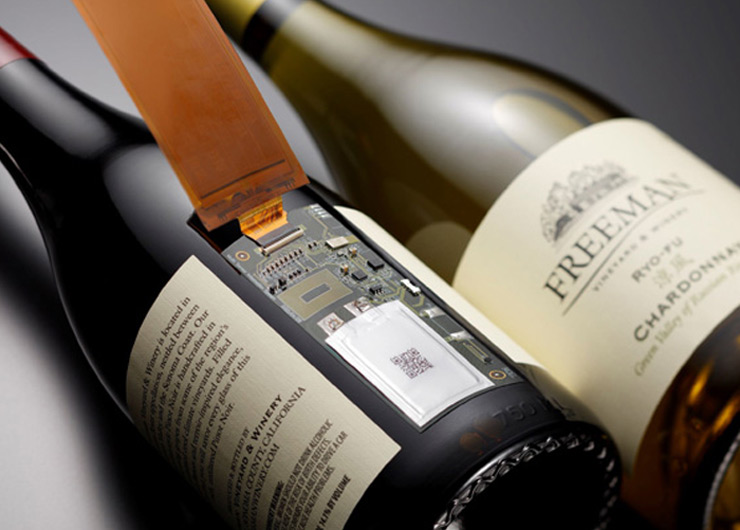 Writer
Aoyama Seiko
Science and Technology Journalist
Aoyama Seiko studied chemistry at Ochanomizu University and its graduate school. She has worked in public relations for a research funding agency and as a journalist and editor for a chemistry magazine. She now works for Sci-Tech Communications, producing public relations materials (newsletters, website text, etc.) for research institutions and technology companies. She also teaches science writing at several universities.