Product
NAS Battery System for Electric Energy Storage Installed at Kashiwa-no-ha Smart City Japan's First Inter-District Dispersed Power Sources Sharing Starts Full-Fledged Operation -Realizing cuts in peak power demand on a community level and reinforcing disa
January 28, 2015
Mitsui Fudosan Co., Ltd. has installed a NAS Battery System supplied by NGK INSULATORS, LTD. at Kashiwa-no-ha Smart City, a project aiming to create an Environmentally Symbiotic City, a City of Health and Longevity, and a City of New Industry Creation, commencing operation of the system in January 2015. Installing the NAS battery will enable the full-fledged operation of a smart grid that allows districts to share distributed energy sources such as solar power generators and batteries. This project is the first instance in Japan where privately operated dispersed power sources and transmission lines are used to share power between districts across public roads.

While Gate Square (hotel, offices, etc.) used to provide only a one-way power supply to the LaLaport KASHIWANOHA shopping center, installing the NAS battery has enable the shopping center to supply Gate Square with power when demand rises on weekdays, thus realizing a peak power cut for the entire district. The reverse will apply on weekends, when Gate Square will supply power to the commercial facilities at LaLaport KASHIWANOHA in response to its increased power demand.

The installed NAS battery system is equipped to function as an emergency power source during a power outage or to reduce peak demand during routine operations. The system has a rated output of 1,800 kW and a rated capacity of 12,960 kWh at a 7.2-hour discharge period.

This initiative is forecast to cut peak power consumption on the Kashiwa-no-ha Smart City regional level by approximately 26%, contributing to reduced energy use and lower CO2 emissions, while also having the economic benefit of lowering the combined annual power bill for Gate Square and LaLaport KASHIWANOHA by approximately 10 million yen annually. At times of emergency when power supply from the grid has stopped due to an event such as a natural disaster, Kashiwa-no-ha Smart City's disaster readiness capability is heightened by electricity generators and energy storage facilities supplying a specified power supply to necessary facilities and equipment to maintain residents' daily lives.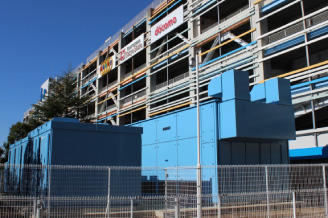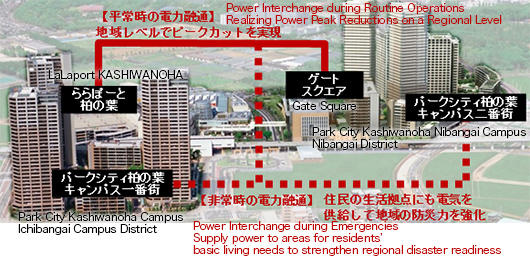 NAS Battery System Overview
The NAS battery is a megawatt-class energy storage system, whose world-first practical use was achieved by NGK INSULATORS, LTD. The NAS battery is a storage battery (rechargeable battery) using sodium (Na) as an anode (negative electrode) and sulfur (S) as a cathode (positive electrode), with both electrodes separated by an electrolyte made of fine ceramic. It can be repeatedly charged and discharged through a chemical reaction between the sulfur and sodium.
NAS battery systems have a large capacity, high energy density, and long life, enabling them to provide a stable power supply for as long as 15 years. They are also compact, taking up only about one-third of the size of lead-acid batteries. They have been installed in approximately 190 places across the world, providing a total output of 450,000 kW (at a capacity of 3.15 million kWh).

NAS Battery System Features
1. Realizes reduced power use at peak times by acting as an electricity load balancer, enabling lower power contract demand and thus reduced energy costs.
2. Relieves output fluctuations from intermittent renewable energy sources, providing stability and helping to reduce environmental impact.
3. Effective from the viewpoint of business continuity planning, being capable of providing long-term power supply as an emergency power source during a natural disaster or time of emergency.

NAS Battery System Specifications
Installation site: LaLaport KASHIWANOHA (Kashiwa City, Chiba Prefecture)
Rated output: 1,800 kW
Rated input: 1,800 kW
Rated capacity: 12,960 kWh (7.2-hour discharge period)
Application: Emergency power supply, electricity load balancing
Operation start: January 2015


Schematic of the Kashiwa-no-ha Smart Grid (During Routine Operations)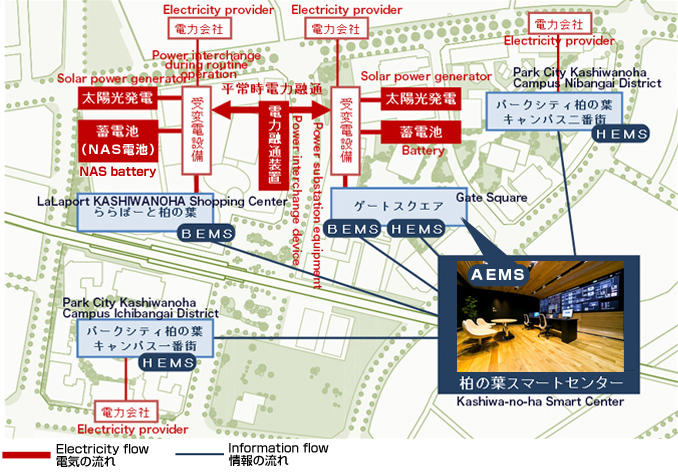 Schematic of the Kashiwa-no-ha Smart Grid (During Emergency Operations)