About NGK
2018 Medium-Term Management Policies
Fundamental policies
In the midst of a surge in global competition, the NGK Group maintains its steady path of growth and evolution in the pursuance of its corporate mission: to provide value to its customers, shareholders, employees-as well as society as a whole-at all times. Through efforts firmly grounded in its unique ceramic technologies, the NGK Group is active in its "Triple-E" primary business domains of energy, ecology, and electronics.
The NGK Group's fundamental policies for fulfilling its corporate mission are outlined below.
First, through selective concentration of resources and investment, the NGK Group will establish new technologies surpassing those of its competitors, to create new businesses and new products that will secure the top positions in their respective fields ("Strategic Growth").
Next, the NGK Group will seek to increase return on equity (ROE) by defining clearly the roles of group member companies and implementing efficient management that makes the most of each company's capacity for dynamism and individuality, all based on consolidated group business management ("A Highly Efficient Organization").
Furthermore, the NGK Group will disclose information to shareholders and investors in a timely and proactive manner. In addition, while communicating information broadly to society at large through its public relations activities, the company will bear its corporate social responsibilities in mind, contributing to society through means such as providing support for foreign-exchange students ("Being a Good Corporate Citizen").
Target performance indicator
Regarding ROE as an important indicator of business performance, the NGK Group promotes management with a focus on its shareholders. In addition to increasing earnings by investing business resources efficiently to expand existing core businesses and launch new businesses, we seek to improve capital efficiency based on a minimum medium-/long-term target ROE of 10%.
Capitalization strategy
The NGK Group's capitalization strategy reflects our desire to contribute to sustained growth in corporate value based on communication with shareholders and investors. In addition to balancing the securing of earnings beyond capital costs and financial soundness, we take a proactive approach to shareholder returns based on a medium-/long-term perspective. Based on key indicators including ROE, the dividend payout ratio, and the dividend on equity (DOE) ratio, we seek to maintain sound levels of profitability, capital turnover, and financial leverage consistent with our business strategies.
Medium- to Long-Term Management Strategies and Issues to Be Addressed
Business opportunities are expected to grow in the NGK Group's business domains of energy, ecology, and electronics backed by the need for public / environmental solutions and technological innovations including IoT, AI, and 5G. That is why over the next three consecutive years the NGK Group plans to make capital investment of over ¥300 billion in order to increase production of automotive ceramics and components for semiconductor manufacturing equipment, as well as mass production of other new products. The NGK Group will focus on building the foundations for growth and launching new businesses as key priorities, while working on the following initiatives.
1) Enhancing the competitiveness of existing businesses: New/reformed manufacturing structures

The NGK Group, as part of new/reformed manufacturing structures, is working to improve product value based on advanced technologies and enhance productivity through innovative manufacturing processes. The NGK Group focuses on improving the efficiency of equipment, and also makes prioritized, carefully-selected new 6 capital investments, among others, to ensure the achievement of results with the return on capital invested (ROIC) in mind.

Along with promoting the development of automotive ceramics, the NGK Group aims to achieve sustainable growth in our businesses by building a cutting-edge, highly-efficient global production system in response to the reinforcement of emission regulations in various countries and globally increased demand due to the growing sales of automobiles. The NGK Group will move ahead steadily with the launch of new equipment with the main focus on the Thailand Plant (HONEYCERAM), Poland Plant / Ishikawa Plant (Sensor) and second plant in China (GPF: Gasoline Particulate Filters).

Furthermore, the NGK Group launched the "Process Technology Business Group" April 1, 2018 by integrating the HPC (Components for semiconductor manufacturing equipment) Business with the high value-added product series, and the Industrial Process Business, which deploys various businesses with its core ceramic technologies, for the further growth of both businesses. In particular, in response to strong demand for ceramic components for semiconductor manufacturing equipment, the NGK Group will bring forward the launch of production at the new plant to be constructed in Tajimi, Gifu, in addition to investment for enhanced production at Chita Site and Komaki Site, to establish a supply system corresponding to demand. The NGK Group also aims to enhance its competitive advantage to further grow its share through the development of high-performance products, taking the increasing demand for technologies and performance into account.

2) Creating new products and new businesses: "Keep up 30"

The NGK Group established the "2017 Challenge 30" aiming at 30% or more of sales generated by new products five years ago and has been working on it since then, accomplishing it in 2017, its final year. The NGK Group, under the goal of "Keep up 30" to maintain the sales ratio of new products at 30% or more in the next fiscal year and beyond, aims to launch mass-production of a micro-lens for ultraviolet LED and gallium nitride (GaN) wafer, both of which were decided to be commercialized, and accelerate their contribution to revenues.

Furthermore, the NGK Group will develop the chip-type ceramic secondary batteries, solid oxide fuel cell (SOFC) and zinc secondary batteries, as well as working on new themes including all-solid state batteries, in order to create next new products / commercialized products.

3) Enhancing global management

The NGK Group operates 46 affiliates in 20 countries outside of Japan. Of those affiliates, 23 engage in manufacturing.

As the NGK Group increasingly expands its operations overseas, in an effort to enhance transparency and autonomy of management, it has been promoting the creation of an environment in which all members of the NGK Group can act in accordance with a fair set of values and evaluation criteria of an international level.

Regarding environmental management, the NGK Group will take the initiative to reduce its environmental impact at all its business bases and throughout all processes to help the preservation of the global environment.

Working to prevent the recurrence of past violations of competition laws, the NGK Group has established an internal system that implements the Competition Law Compliance Program in accordance with international standards. The system works to ensure that directors and employees of the NGK Group throughout the world comply with laws and regulations by providing senior management messages on an ongoing basis and through the use of the Competition Law Compliance Handbook. The NGK Group has also established a whistle-blowing system, the Hotline, to further strengthen the compliance system. Designed to prevent wrongdoing by directors and violations of competition laws, the Foreign Corrupt Practices Act, and other related laws, the Hotline enables the NGK Group's senior management and employees to report directly to the Business Ethics Committee through outside legal counsel.

4) Active participation by a diverse range of human resources and work style reforms

The NGK Group has set the retirement age at 65 to provide employees with job security after they reach the age of 60. During the fiscal year ended March 31, 2018, the NGK Group enhanced working arrangements, including the introduction of short working hours and three-day work weeks, for employees who either must provide childcare or home health care for family members or have serious health conditions, in an effort to provide a choice of flexible work styles and thus support work-life balance. It has also improved its economic support system including a lump sum payment for nursing care support. In recognition of these efforts, the NGK Group received the "Family Friendly Company Award" from the Aichi Prefectural Government as well as the "Minister of Health, Labor and Welfare Excellence Award." Furthermore, the NGK Group was selected by the Aichi Prefectural Government as a leading company among companies certified as Aichi Josei Kagayaki Companies (Companies Supporting Aichi Women's Career Success), an award given to model companies which take constructive steps to promote women's participation in the workplace. In the next fiscal year, the NGK Group will continuously work on offering opportunities for active participation by a diverse range of human resources and creating systems and environment that enable build long career, including the promotion of further use of workat-home system and ICT (information and communication technology) and the enhancement of career training programs for female employees.
As the organization expands in step with the growth of its operations, all of us at the NGK Group will work on the underlying elements of its operations - "Safety", "Quality", "the Environment", and "CSR" - while acting proactively with a high degree of autonomy and accomplishing challenges with our best possible performance in order to be a global company accepted all over the world.
Through the implementation of the above initiatives in order to further strengthen the operating foundations, the NGK Group will continue to pursue sustainable growth and the realization of higher corporate value as it operates its businesses by placing importance on capital efficiency and shareholders.
Mid-term Plan / Ratio of new products to total sales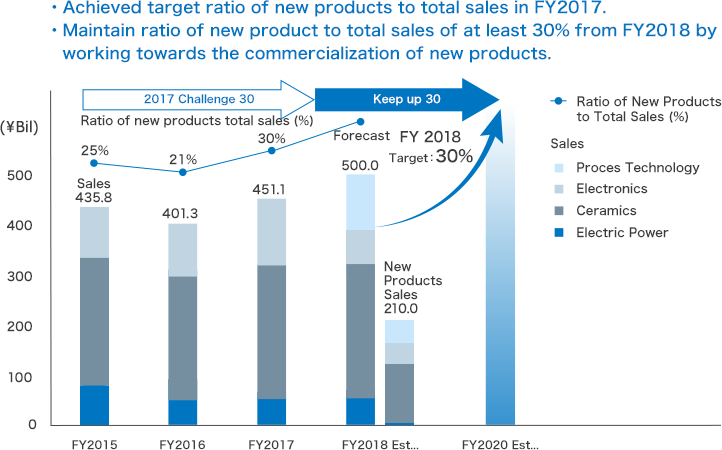 Promising product range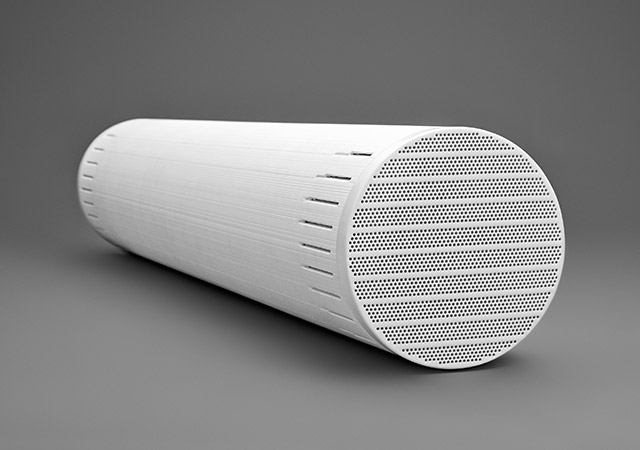 Gallium nitride (GaN) wafer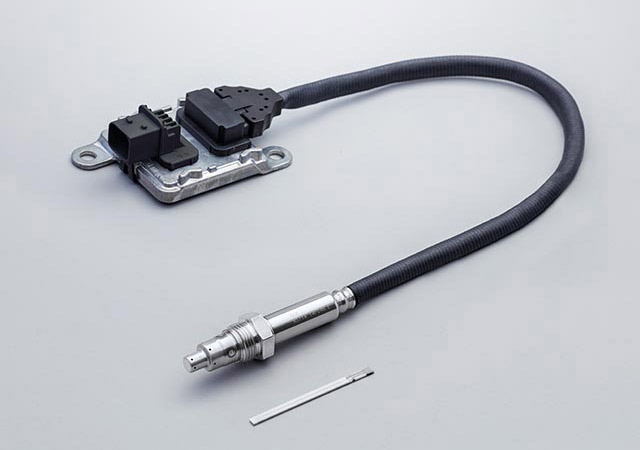 Micro-lens for UV LED lights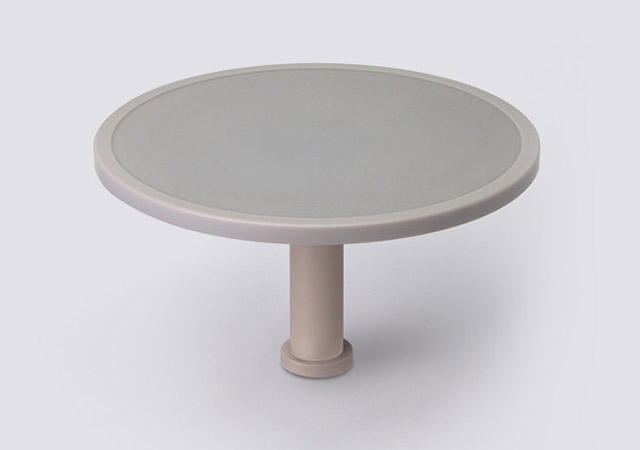 Chip-type ceramic secondary battery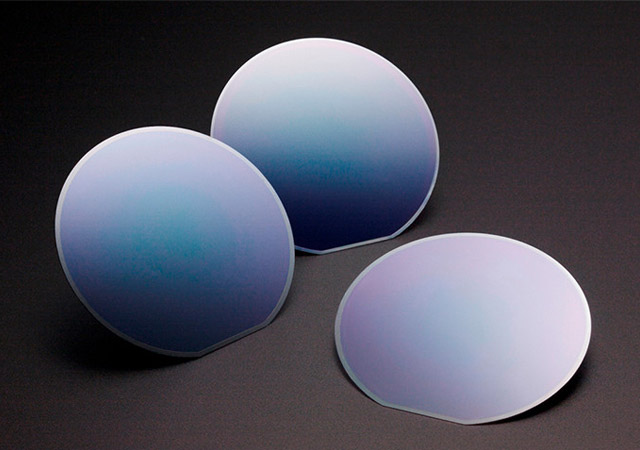 GPF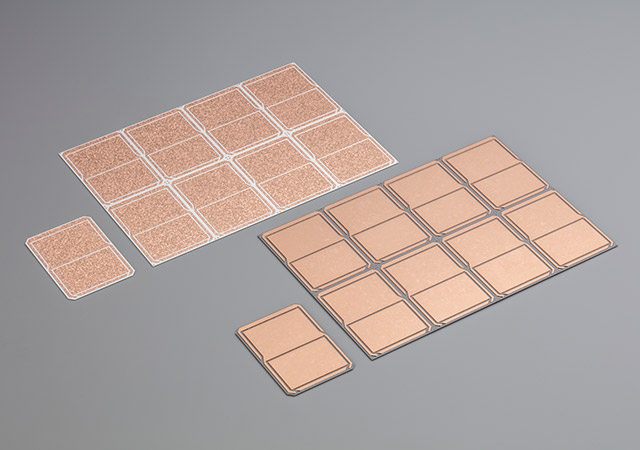 Zinc secondary battery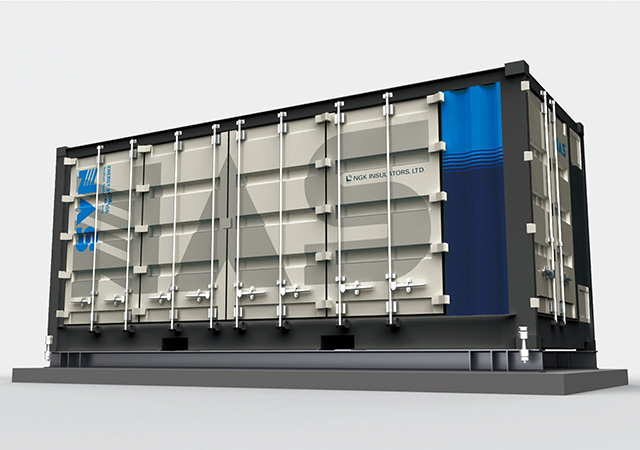 Solid oxide fuel cell (SOFC) module