About NGK
NGK Group Vision
Following the establishment of the 'NGK Group Philosophy' in 2019, we have been engaging in discussions about the direction in which the company should proceed. We have compiled these into the 'NGK Group Vision.'
Philosophy and Vision
The 'NGK Group Vision' represents what we want to be and what we must do in order to realize our mission of 'Enriching Human Life by Adding New Value to Society.' as expressed in the NGK Group Philosophy. We envisioned what the future society would look like in 2050. Then, we discussed the corporate image of the NGK Group at that time. We compiled Five Transformations we should make for our future.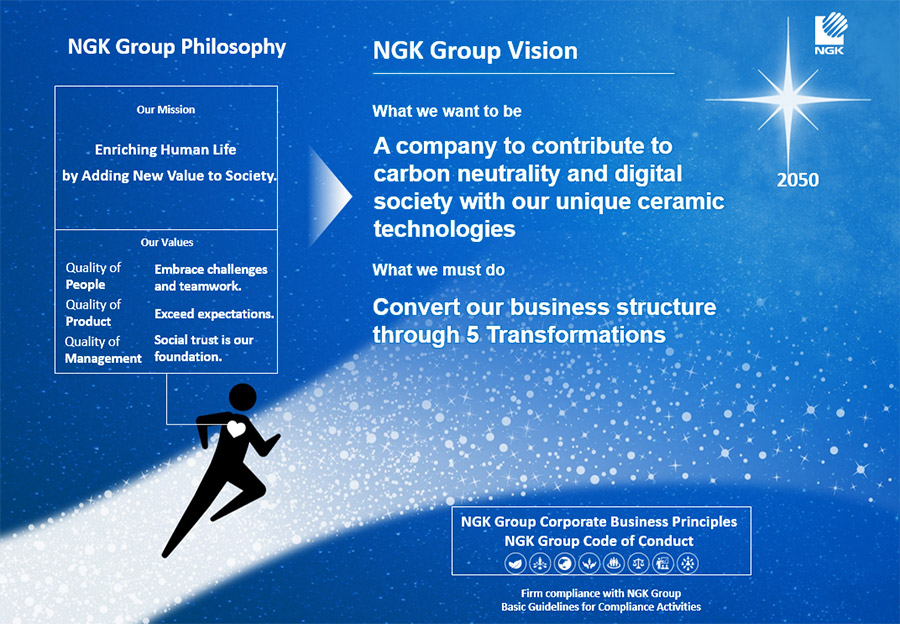 Social Issues and NGK
Since our foundation in 1919, we have been promoting business diversification and global expansion in the aim of contributing to the resolution of social issues as the times change.
Currently, carbon neutrality in 2050 is recognized as a global challenge. In addition, it is certain that digitalization will progress rapidly in the future. In formulating our mid- to long-term vision, we imagined a society of 2050. Then, we positioned carbon neutrality and the digital society as social issues we should tackle on.
Backcasting from there, we considered what we need to work on. We will continue to contribute to society with our unique ceramic technology at our core. In order to do so, it is necessary to refine the technology and raise the level. Next, to commercialize, it is essential to make a major change in management and the way we offer our products. Therefore, we have defined the current situation as the 'Third Foundation' and will work on self-transformation. We will contribute to society through our business by realizing what has previously been difficult with ceramic technology at the core, and by working to the point where the key devices are implemented in society.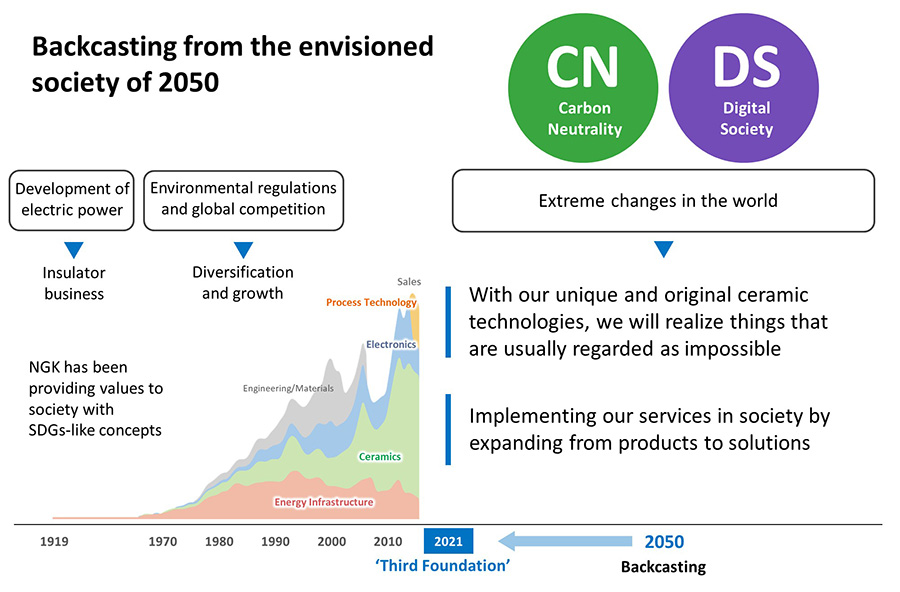 Image of the future society 2050
Here you can see the world of 2050 that we imagined.
Actions to preserve the global environment will permeate widely along with a sense of ethics and justice, and renewable energy will be the basis of electricity and various types of energy. The evolution of AI will advance smartization in all fields and bring about a major change in the world. Both our lives and the industries that support society will be innovatively efficient, and people and things will be seamlessly connected on a level incomparable to the current situation.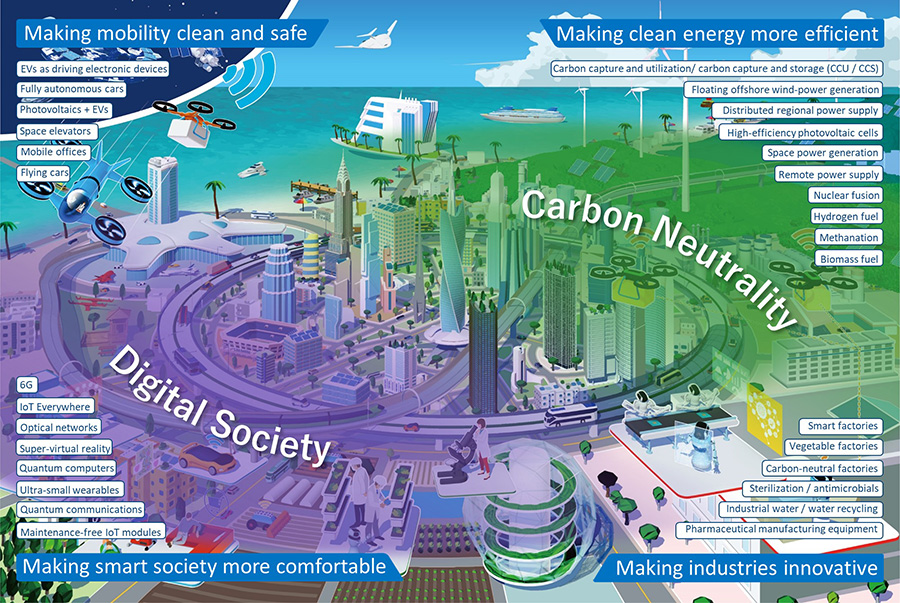 NGK's Contribution Items
We will contribute to the resolution of social issues for the future by refining and utilizing our ceramic technologies to realize things that were previously considered technically infeasible.
We already have some products that we expect to contribute to the realization of carbon neutrality and the digital society. We will provide even more new value by creating new products and services.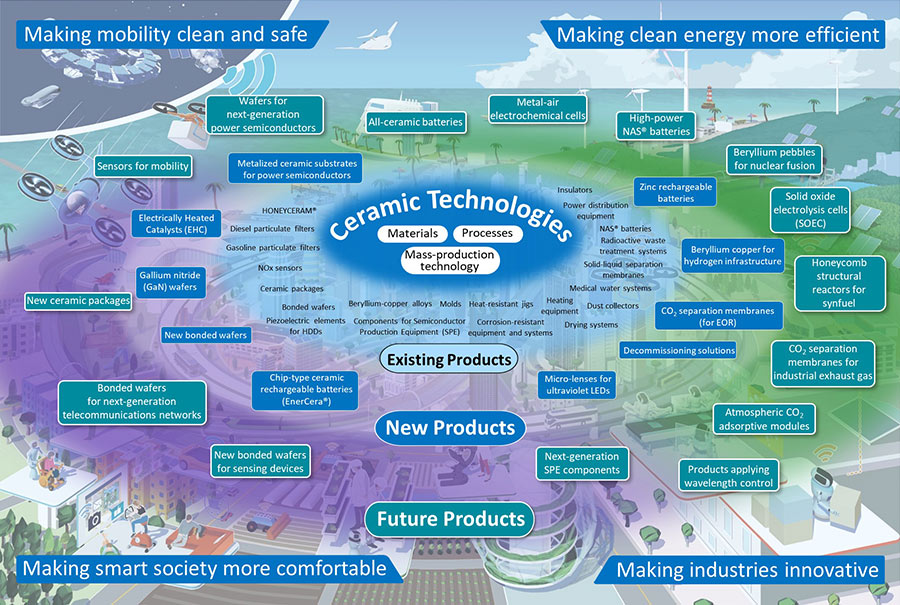 New Value to Be Provided by NGK
For Carbon Neutrality
For carbon neutrality, separation and capture of CO2 have been challenges. By using our ceramic membranes, it is possible to separate and capture specific gases with high precision and stability at the molecular level. Zinc rechargeable batteries using unique ceramic separators and water solutions as the electrolyte can be used safely indoors without the risk of fire accident.
Furthermore, as future products, we will develop the followings;
-SOEC, a solid-oxide electrolysis cell that can produce fuels and raw materials with high efficiency from CO2 and water.
-Honeycomb structural reactors, which make reactions of synfuel highly efficient by utilizing large-scale ceramics extrusion technology and separation membrane technology.
Examples in CCU / CCS
It is said that there will be needs for CCU / CCS, which stands for Carbon Capture and Utilization / Storage. As shown in this figure, we will develop items to be used in various equipment that plays an important role to realize it.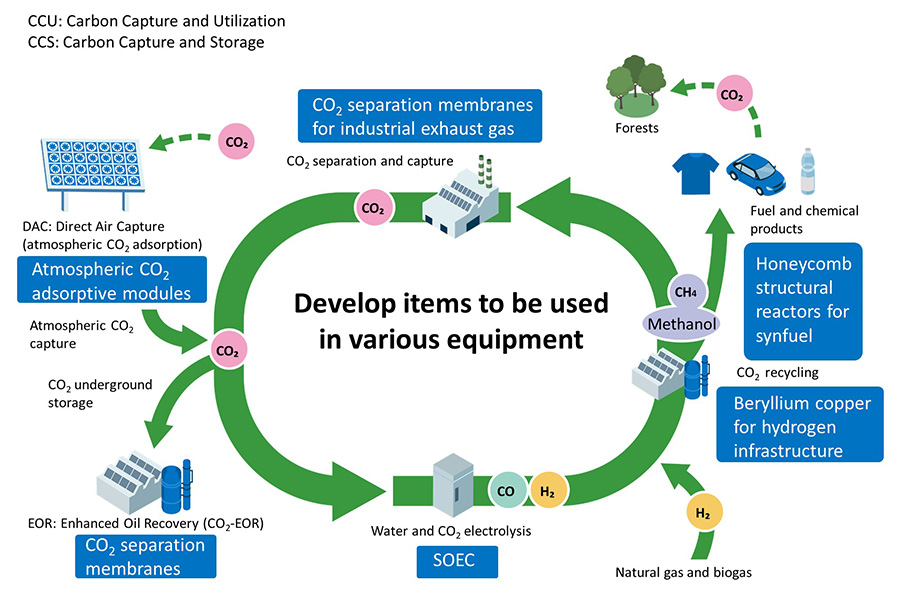 For Digital Society
For the digital society, we will contribute to agendas such as the expansion of the IoT and advanced security with our ultra-thin batteries. These batteries combine high-temperature endurance, high capacity, and low resistance properties that were previously difficult to realize. We commercialized them thanks to our crystal control technologies. They are expected to be utilized in weak power supplies and applied in smart cards and wearable devices.
A new generation of high-speed communication networks, such as 5G and the next 6G, will require more precise and powerful filters. Our high-performance wafers developed using our unique ultra-high precision-polishing and bonding technologies will be applied to such demands.
We will utilize our high precision technologies of ceramics for the development of future products. For example, mobility sensors that contribute to autonomous driving technology and also bonded wafers that realize miniaturization of devices and ultra-high-speed communications.
We will achieve sustainable growth by providing these new values to society.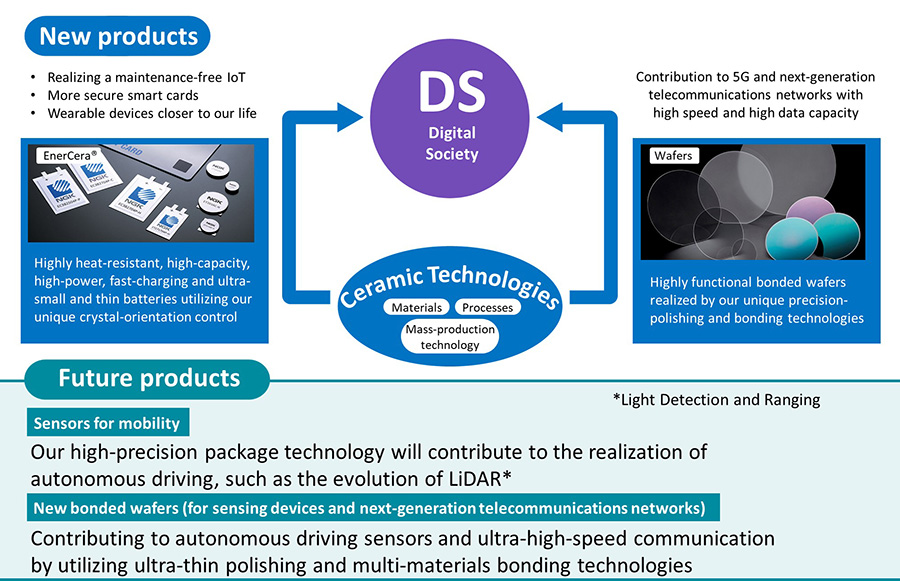 Business Structure Conversion
This slide shows our prospected future business structure.
We expect the carbon neutrality and digital areas to be our growth areas in the future and products related to these areas to account for 50% of our sales by 2030 and 80% by 2050.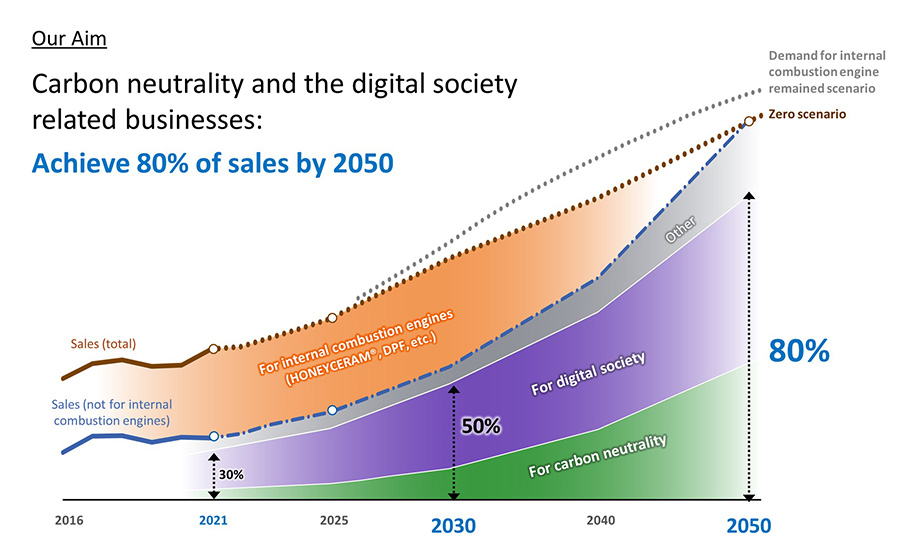 Our Prospect for the Next 5 Years
This slide shows the input over the next five years to fulfill the business structure conversion and the performance prospects for 2025. Over the past five years, our free cash flow was negative due to the fact that we had been actively advancing capital investments for the expansion of existing business. However, since we can recoup the advanced investment over the next five years, our free cash flow is expected to improve significantly even while we promote capital investment and active research and development. We are going to invest it in new growth areas and transformation.
As for our financial performance in 2025, our prospect is sales of 600 billion yen, operating income of 90 billion yen, and net income of 60 billion yen. In addition, while maintaining the conventional ROE targets, capital and dividend policies, we are targeting a level of 200 yen or more in earnings per share (EPS).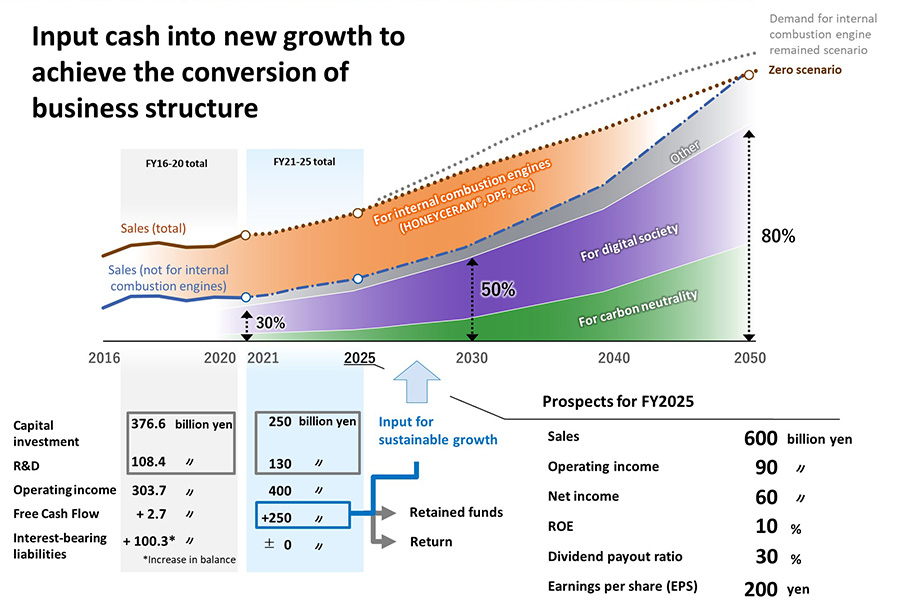 5 Transformations
In order for us to convert into what has been explained so far, we need to make a major transformation. Therefore, we have established 'Five Transformations' as key tasks for our company.
First, we seek to contribute to society through our business as a member of society and position ESG as a foundation of our management.
In particular, with regard to E (environment), we have established the 'NGK Group Environmental Vision' along with the 'NGK Group Vision.' In that Environmental Vision, we stipulate our targets as contributing to carbon neutrality through products and services and achieving net zero emissions in our own activities by 2050.
Second, regarding improvement in earning power, we are going to take on the following initiatives:
-Generating cash by securely increasing our earning power over the next five years as explained earlier
-Instilling management utilizing ROIC and analysis and improvement of profitability in each business within the entire NGK Group
-Starting new actions in production processes to continue to reinforce our strengths as a manufacturer
Third, with regard to R&D, we will aim and work on to create a business with sales of 100 billion yen by 2030 through new business development, which we call 'New Value 1000.' In order to achieve this, we will invest 300 billion yen in R&D over the next 10 years with 80% allocated to carbon neutrality and digital society.
Fourth, we will further strengthen our ability to accomplish commercialization. In order to make ceramic products born from our strength more widely used in society, we will focus on expanding to solution business, not limited to just selling things, by improving our marketing capabilities and expanding collaboration with the outside partners.
The fifth is Digital Transformation (DX). We will use the power of digital to accomplish the transformation.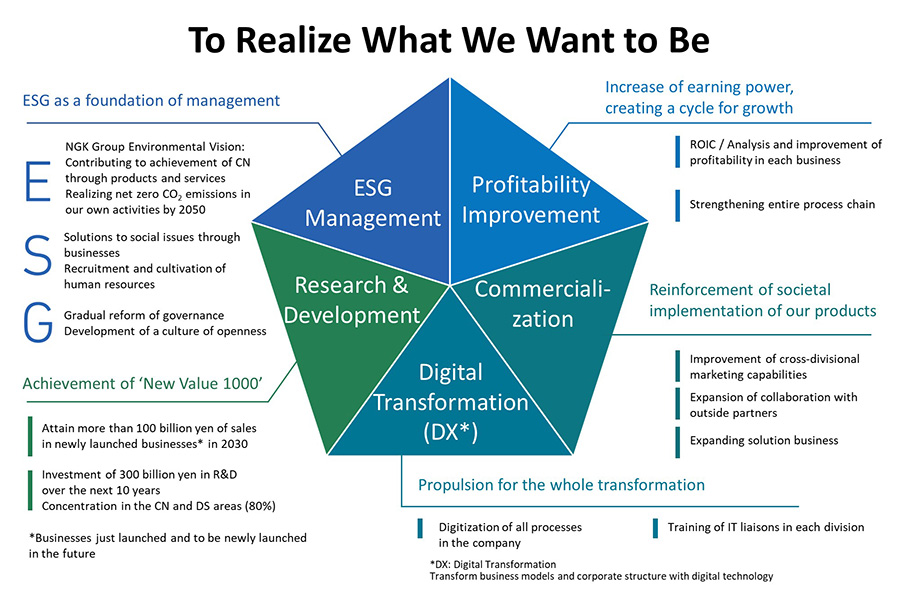 NGK Group Vision
The 'NGK Group Vision' is to define 'what we want to be,' clarify 'what we must do,' and then take an action. We ensure to contribute to carbon neutrality and digital society with our unique ceramic technologies. To accomplish this, we will work on Five Transformations and convert our business structure.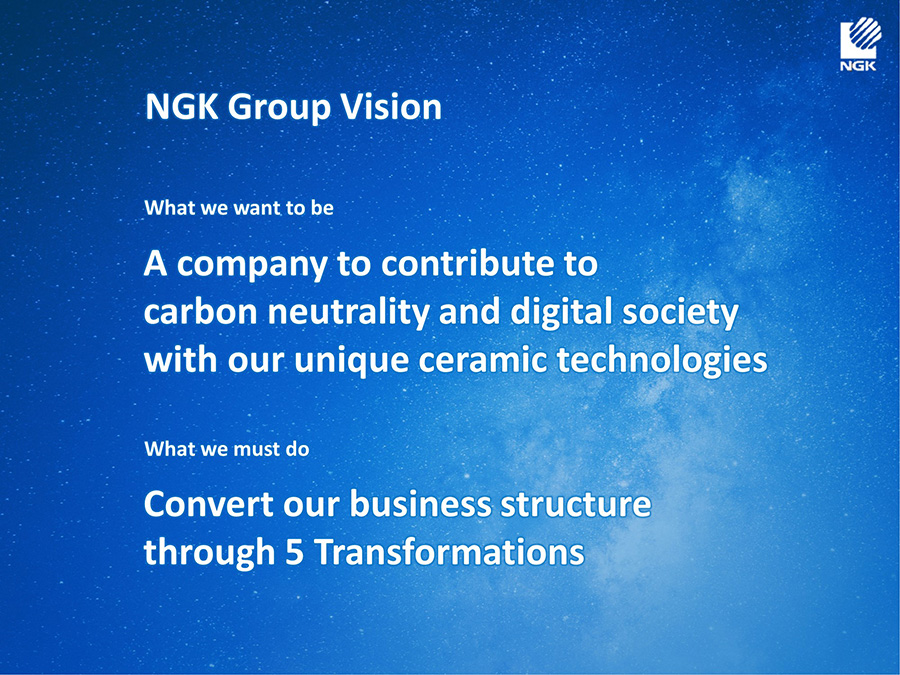 NGK Group Environmental Vision