About NGK
Message from the President
Realizing the NGK Group Vision: Road to 2050
Launching Five Transformations and Implementing Major Organizational Reforms
Applying NGK Group strengths to resolve societal issues while achieving corporate growth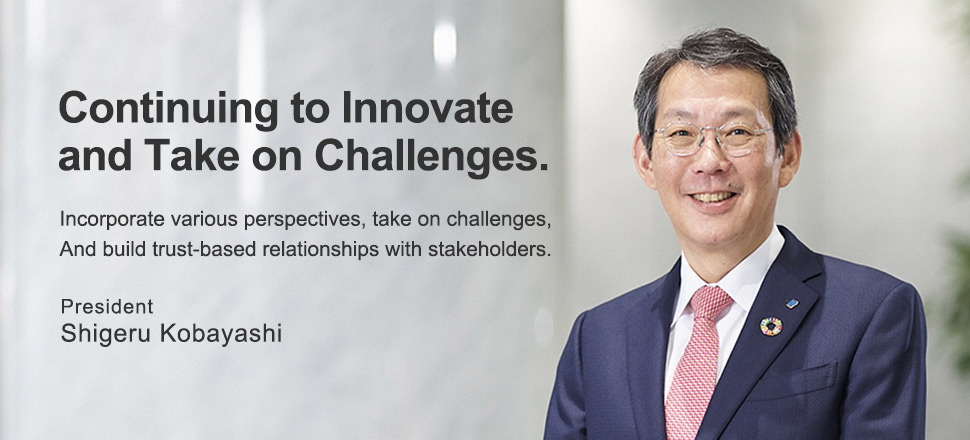 The world is on the cusp of dramatic changes as it faces a myriad of issues, including responding to global warming, the spread of new infectious diseases, and geopolitical fluidity. Amid such an environment, the NGK Group took our first step towards realizing the NGK Group Vision of contributing to carbon neutrality and a digital society.
We are working on Five Transformations that represent the core strategies of our vision. While we have just completed our first year of initiatives related to these reforms, more than ever I feel that the unique ceramic technologies we have cultivated for more than 100 years since our founding will contribute to the realization of our vision.
Our vision, Road to 2050, will not be a simple endeavor. However, I am increasingly confident that we can realize our goal of contributing to the resolution of societal issues and achieving sustainable growth for the NGK Group.
Four goals I outlined when I became President
Policies and progress towards achievement
When I assumed the role of President, I embraced four goals aimed at implementing structural reforms that will prepare us for the coming times. First, I want to introduce and provide a progress report for each goal.
My first goal is to produce results for more than 250 billion yen in capital investments we have conducted over the past three years. We made these investments to respond to increasing demand, particularly in automotive and semiconductor-related businesses. We are forecasting continuous gains in line with profit projections for both businesses. In addition to the recovery of the global automobile market, favorable conditions for semiconductor-related business resulted in steady growth in product shipments.
My second goal is to create new businesses and products that will support the future of the NGK Group. We are advancing Five Transformations under our vision through 2050. One of those reforms is the distribution of R&D budget mainly into two fields: carbon neutrality and a digital society.
My third goal is to promote globalization. The NGK Group has offices in 20 countries across the globe, with overseas sales exceeding 70% of Group net sales. I personally have exchanged opinions with customers and employees all over the world. I have hopes of promoting further globalism but this past year forced us to mostly rely on online interactions due to the impact of COVID-19. While it does depend on future conditions, I want to proactively interact with person in-person and work to build stronger relationships.
My fourth goal is to develop the NGK Group into a corporation that instills pride in its employees and earns the trust of all our stakeholders. We have continued efforts to reform our corporate culture and become a transparent and enjoyable workplace where everyone embraces a challenging spirit and exerts their creativity. For example, over the past year, I have created opportunities to personally speak to employees about the NGK Group Vision. By sharing this vision with many so employees, we are cultivating a culture that invites free and open discussions that is not limited by age or seniority. I can feel the growing sense of motivation towards these reforms. Reforming organizational culture is not something that can be done overnight but we will aim to be a corporation that is trusted by all our stakeholders.
Business environment surrounding NGK Group and strengths
Carbon neutrality and a digital society are tailwinds for growth
The NGK Group Vision outlines our ideal future as being a company that uses our unique ceramic technologies to contribute to carbon neutrality and a digital society. The current NGK Group business structure is weighted heavily towards products used in the internal combustion engines of gasoline and diesel vehicles. This includes products such as ceramic substrates for purifying automobile exhaust. With the continued growth of electrified vehicles, our most important and highest priority issue is determining how we will reform our business structure and maintain and expand revenues. With the NGK Group possessing such unique ceramic technologies,
I believe this change will serve as a tailwind for growth for our Group.
For example, storage cells are critical to the realization of carbon neutrality. NGK Group technology includes products capable of meeting a diverse range of needs in the storage cell domain. These products include our NAS batteries, which are capable of storing megawatts of power, and our zinc rechargeable batteries, which offer high capacitance and safety. Other technology and products include sub-nano ceramic membranes capable of separating and recovering CO2, and solid oxide electrolysis cells (SOEC).
The NGK Group is also highly competitive in the digital society domain. Our product line includes EnerCera, an ultra-compact, ultra-thin lithium-ion rechargeable battery that achieves high output and high capacitance. We also offer high-performance wafers that support next-generation high-speed, high-volume communications. We are able to provide new value in the age of an ultra-smart society that continues to adopt AI, IoT, and high-speed communications networks such as 5G and 6G. We also have accumulated technology and knowhow related to the integration of electronics systems into automobiles, including advanced driving assistance systems (ADAS) and network connections designed to support growing IoT applications. I believe the application of this technology and knowhow will open a path to significant opportunities for our Group.
Specific policies for realizing the NGK Group Vision
Launching Five Transformations and making solid progress towards future goals
Under the NGK Group Vision: Road to 2050, we started work on Five Transformations that representing the core of this vision: (1) ESG Management; (2) Profitability Improvement; (3) Research & Development; (4) Commercialization; and (5) Digital Transformation (DX). NGK has several strengths beyond our technology. One of these strengths is the spirit of "We do this for the sake of society's future, and not for own profit." This spirit dates back to the origins of NGK when it was founded as a member of the Morimura Group*1.
More than 100 years ago, our company was created to resolve societal issues in Japan related to the dissemination of electricity. Supported by that spirit, we have continued to achieve growth throughout changes such as diversification and globalization. Along the way, we cultivated a DNA for taking on new challenges without ever giving up. The NGK Group will continue to embrace the spirit of "doing for the sake of society's future, and not for own profit" and our DNA for taking on new challenges. We will apply these strengths to turn the major changes we face in society into a tailwind that drives us forward.
The following is a report on progress after the first year of our reform efforts.
ESG management
ESG management is a reform initiative that is directly linked to the operating objectives (purpose) of the NGK Group. Since our establishment some 100 years ago, NGK has engaged in management practices rooted in the current concept of ESG: resolving social issues through our products and services. This commitment remains unchanged today and will continue into future. I believe we must respond to the demands of society with a modern perspective.
As part of our environmental initiatives (the "E" in ESG), in the spring of 2021 we formulated the NGK Group Environmental Vision and set a goal of contributing to carbon neutrality through our products and services while working to achieve net zero CO2 emissions by 2050. In addition to adopting renewable energy at our domestic and overseas sites, we will also review our production methods and switch to alternative fuels to reduce CO2 emissions.
We started collaborative efforts with Ena City in Gifu Prefecture and Abashiri City in Hokkaido Prefecture to locally produce and consume electricity involving the use of NAS batteries . We also established new local electric power companies "Ena Electric Power" and "Abashiri Electric Power". Utilizing renewable energy such as solar power and wind power, we will promote electricity self-consumption at the regional level. We are also aiming to improve safety and security by taking measures against power outages in the event of a disaster, and to reduce environmental load. We plan to expand this model nationwide to contribute to the expansion of renewable energy use.
In line with the recommendations of the Task Force on Climate-Related Financial Disclosures (TCFD), in April 2022 we published information to our website on the status of NGK Group efforts related to four items, governance, strategy, risk management, and metrics and targets.
To address issues related to society (the "S" in ESG), we are focusing on diversity based on the belief that encouraging the active participation of diverse human resources will lead to the creation of new value. When I took office as President,
I indicated "promoting globalization" as one of the measures I planned to undertake, and I am actively promoting the hiring of local human resources at our overseas locations. I lived abroad for a long time, including being assigned overseas, and have personally experienced the importance of respecting diversity in different cultures. I believe accepting and collaborating with people of diverse backgrounds and values is the key to promoting globalization. We are also working to create a motivating work environment for employees, including by expanding our system for promoting women's workplace advancement and providing diverse career paths that enable employees to pursue growth autonomously.
We are addressing governance (the "G" in ESG) by developing a system that enables prompt and decisive decision-making while ensuring transparency and fairness that gives due consideration to various stakeholders. From this fiscal year, we established an ESG Management Committee, on which I serve as chairman, to take a universal approach to addressing ESG issues facing the NGK Group. We also established a system to ensure the Board of Directors appropriately supervises these activities.
Profitability improvement
To improve profitability, we will aim to further increase our earning power over the next five years and create a virtuous cycle of securing profits and investing.
As a measure to further improve profitability, in 2021 we started "Manufacturing ∞ (Chain) Innovation". We will use digital technology to promote manufacturing visualization and global collaborations with a focus on production innovation activities that bridge the gap between the ideal and real situations along the manufacturing chain. We will also implement cost reduction activities that improve manufacturing costs by reducing losses at each factory.
R&D and commercialization
R&D and commercialization are the core reforms of the NGK Group Vision. We set a goal of "New Value 1000", which aims to generate sales of 100 billion yen from new products and new businesses by 2030. To achieve this goal, we will accelerate the creation and business development of products that contribute to carbon neutrality and a digital society. In particular, we will emphasize the speed from development to commercialization and market engagement. We will develop a system that leads to the development of innovative ceramic materials in a short period of time. This includes adopting practical applications for materials informatics*2, which involves creating a database from the massive amounts of experimental data we possess as a corporate asset, and combining the database with AI technology.
DX (digital transformation)
To promote DX, in April 2021, we established the Digital Transformation and Innovation Department as a department specializing in DX to unify efforts related to digitalization, and to promote a company-wide change in thinking regarding data utilization. In April of this year, we formulated and published the NGK Group Digital Vision.
*1 One of the world's largest ceramics corporate groups, which originated from Morimura Gumi, a ceramics trading company.
*2 A method for developing materials using information processing technologies such as big data, AI, and machine learning.
Restructuring and establishment of new organizations
Implemented strategy reorganizing four business groups into three, and established Corporate NV Creation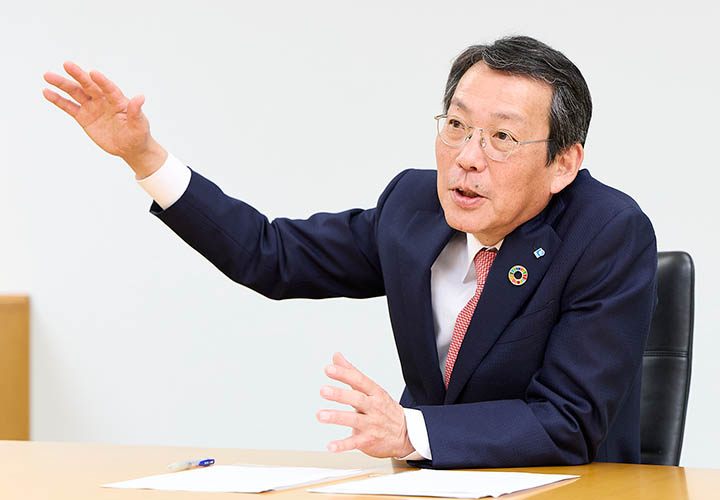 One of our organizational restructuring initiatives is the review of business segments. Based on the business domains related to carbon neutrality and a digital society, which we position as core areas in our vision, we reorganized our previous structure of four business groups into a structure with three business groups. The Environment Business Group will promote business in new markets such as decarbonization technology in addition to its mainstay automobile-related business. The Digital Society Business Group promotes businesses related to a digital society, such as semiconductors, electronic components, and various electronic devices. The Energy & Industry Business Group promotes businesses related to carbon neutrality, such as energy storage, industrial equipment and products, and insulators. While increasing synergy between departments, we are combining organizations to implement reforms from a different perspective.
As another organizational restructuring initiative, to accelerate commercialization we established a new marketing unit, the Corporate NV Creation, to lead the New Value 1000. While the NGK Group has unwavering strengths in technology, we also recognize our challenges related to marketing, including approaching markets and disseminating information. We will speed up the creation of new products and our commercialization process by promptly identifying needs, encouraging inter-departments collaborations and external cooperation on the development of products and the provision of services and systems.
We started this spring with a system of about 100 people by gathering various human resources from each business groups and head office departments. We have begun to extract and propose technologies and themes to be tackled. This is an unprecedented attempt, and our efforts may fail.
As I stated, the NGK Group embraces its DNA for taking on new challenges. At the same time, it is also true that many employees are incredibly cautious and tend to be afraid of failure. Not all challenges work, but the insatiable determination to take on new challenges is the source of new ideas and new value. To achieve unprecedented change, I believe we must evaluate challenges and create a corporate culture that tolerates failure. I want to use the efforts of the Corporate NV Creation as an opportunity to adopt such a culture.
To all our stakeholders
The NGK Group has set out on a new path towards our "Third Foundation"
Under the NGK Group Vision: Road to 2050, in 2021 we started many reforms, including reorganizing and establishing new departments within the organization. This represents the start of a long-term and dramatic new strategy at a time when we face major changes in our operating environment. I regard this major milestone as our "Third Foundation." Moving forward, the NGK Group will continue to transform and take on challenges with flexibility and a sense of speed. We will move forward towards becoming a company that is trusted by our stakeholders.
We would like to ask our stakeholders for your continued support.
Note: This interview was conducted in May 2022.