Develop our own strengths for further growth
Since its founding, the NGK Group has been consistently expanding its business engaging in manufacturing and supplying products which make good use of ceramics technology. We have built up high proprietary technologies, expertise and quality in ceramics development, which represent our unrivaled strengths. Application areas of our ceramics technologies range broadly from ceramic catalytic substrates for automotive exhaust gas purification and NOx sensors--key tools for meeting emission regulations that are being progressively tightened around the world--to ceramic components for semiconductor manufacturing equipment, for which demand is soaring driven by the accelerating advancement of the Artificial Intelligence (AI) and the Internet of Things (IoT) technologies.
In fiscal 2016, we recorded a year-on-year decline in net sales and profits due to a generally stronger yen and a considerable increase in facility and development investments. In our plan, those investments have been made to enhance our capabilities to develop and manufacture new products, which will increase net sales and profits in the long run.
In order to develop our strengths and to achieve further growth, we are promoting a number of group-wide initiatives in parallel, including the "New/reformed manufacturing structures" initiative designed to enhance our competitiveness over the medium to long term, and the "2017 Challenge 30*" project aimed at raising the share of new products to 30% or more of total sales.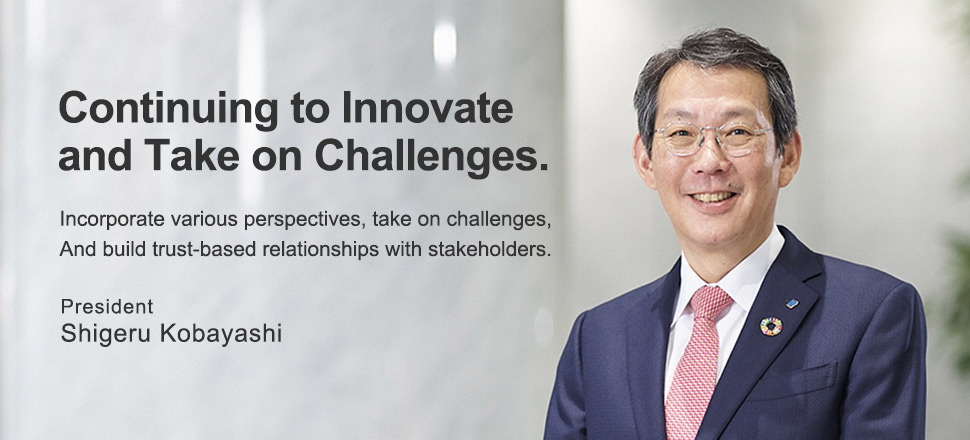 Develop our personnel, a foundation for growth
I have consistently focused on personnel development and work style reform over the past three years since assuming the presidency, which are an essential foundation for achieving sustainable growth in business. We have been striving to create a workplace where all employees, regardless of age, gender or career, can enjoy satisfying work, demonstrating their capabilities and cultivating forward-looking views. Our efforts have been recently stepped up to particularly address the theme of women's empowerment, that is, by developing appropriate systems and measures to offer an environment where many women can play an important role and build lifelong careers. We will develop a work environment where each employee can fulfill their potential and aim to be a company that continuously achieves sustainable growth.
Develop a sustainable future
To pursue global business, the NGK Group has signed on to the United Nations Global Compact, an initiative to encourage businesses to adopt sustainable and socially responsible policies. Accordingly, we will work to undertake socially responsible actions to contribute to solving various global challenges in support of the UN Sustainable Development Goals (SDGs) and other international initiatives. It is also vital to comply with competition laws and other applicable laws and regulations and respect human rights. We in addition believe that it is important to follow internationally appropriate corporate behavior, including a fair attitude toward diverse values. Our business activities and the resolution of such social issues are integrated because the products we develop and supply are largely involving social infrastructure projects and environmental issues.
The NGK Group will be challenging by gathering our group strengths to manufacture and supply products that contribute to a better societal environment and create new value into the future.