Product
NGK to Dramatically Bolster Production Capacity of Ceramics for Purification of Automobile Exhaust Gas in Poland
March 30, 2017
Response to Increase in Demand for Two PM Filter Products
NGK INSULATORS, LTD. (President Taku Oshima; Headquarters: Nagoya, Japan) announced today that it has decided to bolster production capacity for ceramics for purification of automobile exhaust gas at its Polish manufacturing subsidiary, NGK CERAMICS POLSKA SP. Z O.O (Gliwice, Silesia Province, Poland). The Company will make a capital investment totaling approximately 29.0 billion yen in response to increasing demand for silicon carbide (SiC) diesel particulate filters (DPFs) and gasoline particulate filters (GPFs) for removing particulate matter (PM).

NGK CERAMICS POLSKA was established in 2003 as a production site for SiC DPFs. Since the start of production in 2004, capacity and product assortment have been ramped up in stages. Today the plant produces four types of ceramic products, including SiC DPFs and GPFs. Capacity-wise, in February 2017, the Company's second plant (No.2 plant) for production of SiC DPFs commenced operation (in Dabrowa Górnicza, Silesia Province, Republic of Poland).

The Company's capital investment this time will bolster the production capacity of GPFs at its original (No. 1) plant and SiC DPFs at the No. 2 plant. The total planned investment for both plants is approximately 29.0 billion yen. Production capacity will gradually be increased to about three times for GPFs and by thirty percent for SiC DPFs in total for the two plants by April 2020.

Demand for our ceramics products is growing strongly, driven by global tightening of exhaust gas regulations and an increase in automobile sales volume, particularly in emerging countries. Amid these, in Europe the application of PM emission particulate number (PN) restrictions to gasoline cars from September 2017 and the introduction of a Real Driving Emissions (RDE) Test performed under actual driving conditions is expected to boost demand for GPFs. Furthermore, emerging countries such as China, Thailand, and India are planning to phase in exhaust gas regulations, which is expected to prompt fitting of SiC DPFs on diesel vehicles.

NGK will continue to make investments for bolstering production capacity to meet expanding global demand for ceramics used in automobile exhaust purification, building an efficient and stable global production and supply system.
Overview of Capital Expenditure
No. 1 Plant (Gliwice)
Investment amount: Approx. 7.0 billion yen
Location: Expand facilities within existing buildings on the site
Production item: GPF
Construction period: July 2017 – June 2019
Start of production: July 2018
No. 2 Plant (Dabrowa Górnicza)
Investment amount: Approx. 22.0 billion yen
Location: Construct a new building on the currently owned site
Production item: SiC DPF
Construction period: August 2017 – April 2020
Start of production: April 2019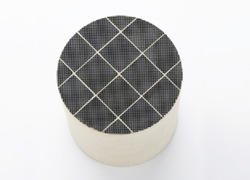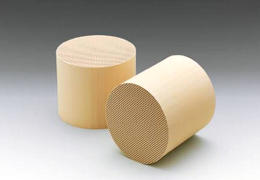 Silicon carbide (SiC) diesel particular filters (DPF)
DPFs are ceramic filters that remove particulate matter (PM) from diesel engine exhaust gas. They have a honeycomb structure with alternate entrances and exits blocked off so that the thin walls of the ceramic act as a filter to capture PM within the exhaust gas. Silicon carbide has even better thermal durability characteristics than cordierite, and is therefore used mainly for passenger vehicles, which provide rigorous usage conditions.
Gasoline particulate filter (GPF)
GPFs are ceramic filters for removing PM from gasoline engine exhaust gas. They were developed using DPF technology. They are made from cordierite, which is light and has excellent thermal and shock endurance characteristics. Production of GPFs started in January 2016 at NGK Ceramics POLSKA.