Product
Chip-type Ceramic Rechargeable "EnerCera" Battery Receive Japan Fine Ceramics Association Award for Technical Advancement
May 26, 2021
NGK INSULATORS, LTD. (hereinafter "NGK"), based in Nagoya, Japan, received the 2020 Award for Technical Advancement from the Japan Fine Ceramics Association on May 25 for the development of the chip-type ceramic rechargeable EnerCera battery series, which has been commended highly.

This award is granted to those who have made significant achievements in the development of new products and technologies in the field of fine ceramics. EnerCera is an ultra-small/ultra-thin Li-ion rechargeable battery using NGK's original crystal oriented ceramic plate as electrodes. EnerCera's unique battery structure (semi-solid state battery) where small amounts of electrolytic solution are infused into multi-layered ceramic battery materials, enabling it to achieve features required to power IoT devices but had been difficult to incorporate in existing Li-ion rechargeable batteries, such as being ultra-small/ultra-thin, high capacity, high output, high heat resistance and long life. This was commended highly for its innovation and practicality, leading to the receipt of this award.
Overview of Award
| | |
| --- | --- |
| Award name | 2020 Japan Fine Ceramics Association Award for Technical Advancement |
| Organization name | Japan Fine Ceramics Association |
| Details of commendation | Development of chip-type ceramic rechargeable battery EnerCera battery series |
| Award winners | CCD project, Corporate R&D Division; Power Device Department, Advanced Device Components Division, Electronics Business Group of NGK INSULATORS, LTD. |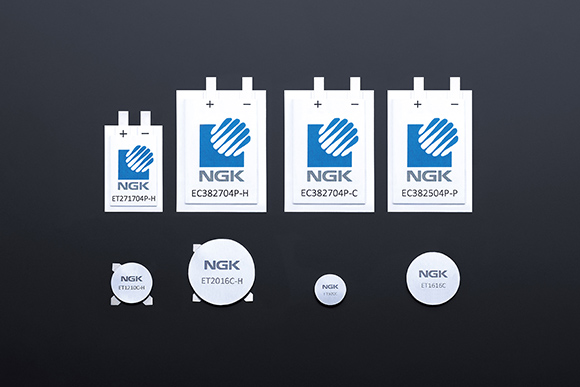 Various types of compact IoT devices have been developed in conjunction with the progression of digital society and power sources are needed to promote their spread. Conventional Li-ion rechargeable batteries have generally been the compact storage device, but because they use electrodes bonded with conductive aid and organic binder there were challenges that needed overcoming, such as limits to improving energy density, low resistance to heat and high resistance. NGK successfully developed EnerCera battery with features including being compact and thin, high capacity, high output, highly heat resistant and with long life by using crystal oriented ceramic plate as electrodes that did not include these limits and a monolithic ceramic body with even greater heat resistance and a semi-solid state battery. EnerCera battery resolves the issue of power source for IoT devices and will contribute to the full-scale spread of them.

EnerCera is currently being adopted in smart cards and smart keys, in addition to its samples being evaluated by over 300 companies around the world.

NGK will use this award as a springboard to continue accelerating the development of EnerCera battery to realize the spread of various IoT devices and to contribute to the development of digital society.