Product
NGK, Energous and e-peas Collaborate to Spread Use of Wireless Power Transmission/Transfer Systems
March 09, 2023
NGK INSULATORS, LTD. (hereinafter, "NGK") announces that it has further developed its collaboration with Energous Corporation (hereinafter, "Energous"), a leading developer of RF-based charging for wireless power networks for IoT, and e-peas, maker of highly efficient power source IC technology, to spread the use of Wireless Power Transmission/Transfer (WPT) systems. NGK will support the development of edge device manufacturers and others who work on WPT systems by developing and providing IoT devices that combine NGK's lithium-ion rechargeable battery "EnerCera" with the technology of Energous and e-peas.

WPT is a technology that uses radio frequency to transmit power to remote areas. As society shifts toward IoT, power cables and primary batteries (disposable batteries) have been used to power IoT devices. But wiring and the hassle of replacing batteries were a big issue. WPT is attracting attention as a power supply technology that promotes the realization and spread of maintenance-free IoT devices. It enables power supply edge devices to place where wiring and maintenance presents difficulties.

NGK and Energous initially entered into a partnership in October 2022*1 to develop solutions that combine Energous' WattUp technology*2 with NGK's lithium-ion rechargeable EnerCera battery to enable maintenance-free IoT devices. Alongside e-peas, the three companies have now developed a temperature and humidity sensor evaluation kit and are also proposing WPT systems aimed at powering tracking devices used in logistics and other IoT applications such as electronic shelf labels. As part of this efforts, an evaluations kit will be provided to support the development of WPT devices.

This kit can be connected to any type of end-devices in need of energy harvesting technology such as sensors or electronic shelf labels. The EnerCera battery that comes with the kit effectively stores a small amount of energy transmitted through WPT and is capable of releasing an amount of energy large enough to power devices despite being ultra-thin and ultra-small, so it can be used in many kinds of applications.

NGK will continue to collaborate with various partners who possess advanced specialties and help to realize an IoT ecosystem by providing its unique ceramic products such as EnerCera.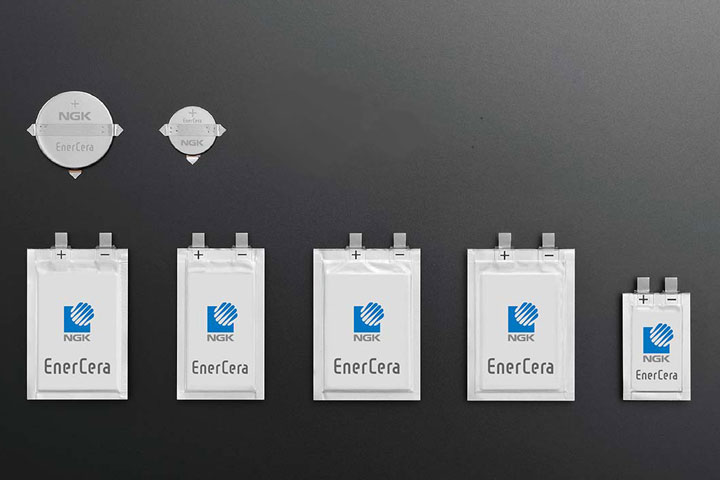 EnerCera battery
WPT evaluation kit
e-peas
RF energy harvesting IC (AEM30940) by e-peas
High Efficiency RF Harvesting Antenna (EP112) by e-peas