NGK Foundation for International Students
Special Issue
A Place Where Students from around the World Live, Learn, and Laugh Together
NGK International House
Forty students from ten different countries living together, learning together, and building friendships together.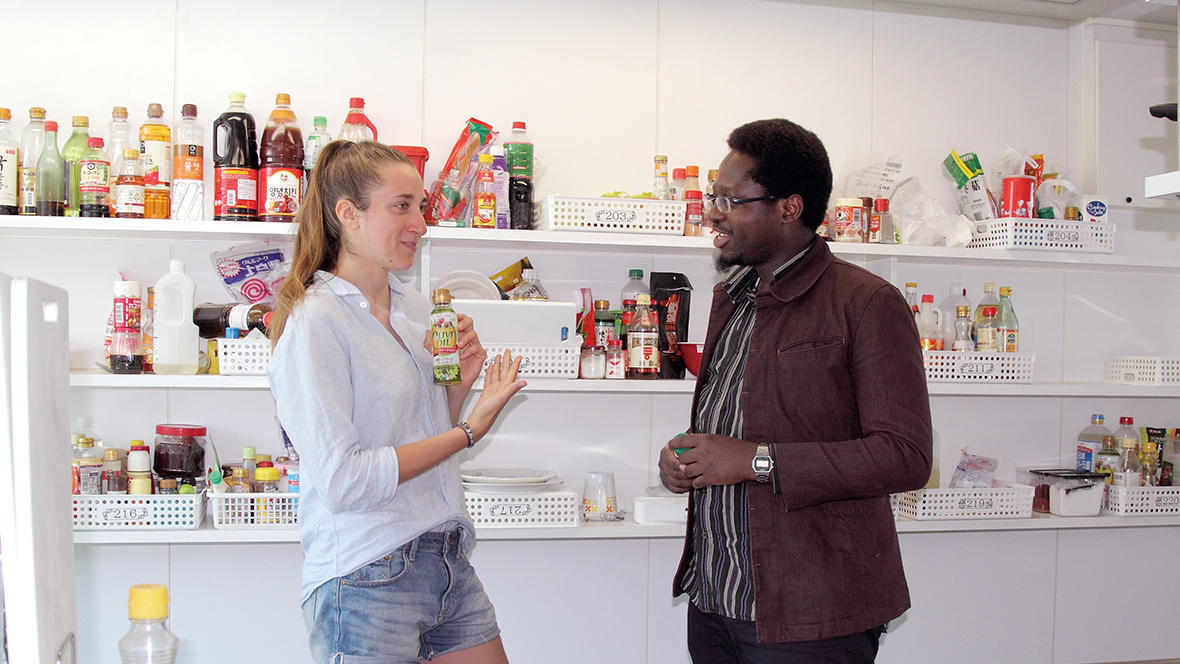 "Except for weekends, I am in the laboratory until 11:00 p.m. every day. My room at the NGK International House has a big desk and is good for studying. When I get tired, I go out onto the balcony to get some air. Also, I love nature, so the sight of the forests and flowers makes me feel happy." The speaker is Edwin Akandwanaho, a student from Uganda (right). He is studying road traffic at Nagoya University's Graduate School of Environmental Studies.
Alexia Fabiani is from Italy (left), and she is studying physics at Nagoya University's School of Science. "It's safe and quiet here, and all the residents are nice people. When you live on your own it's hard to make friends, but that's not the case here. I can meet friends easily." On days off the international students gather in the common kitchen area and cook. "I make a lot of Italian food like pizza and pasta. But I'm a vegetarian, so I don't use any eggs or meat." The students often share what they cook with one another.
NGK established the NGK Foundation for International Students in order to facilitate the cultivation of individuals who will contribute to the development of the international community. It is through the Foundation that NGK is helping to provide housing and scholarships to overseas students visiting Japan.
The impetus for the Foundation's establishment stems from gratitude for the warm community support and hospitality shown to NGK's first employees and families posted overseas at the time of its initial overseas expansion.
In addition to the individual rooms for the residents, the NGK International House has a dining area which can accommodate a large number of people, a study room which is freely accessible even at night, a hall which can be used for events, and Wi-Fi for the entire building. The International House provides a safe and secure living environment and optimal study environment for overseas students, as well as fosters interaction with the local community through language classes and intercultural events run by the students.
| | Number of overseas students supported | Total language class and intercultural event attendance |
| --- | --- | --- |
| Achievements | 779 (1997-2017) | 964 (2000-2017) |
Note: Language classes began in 2000 and intercultural events in 2006.