IR
Overview of Business Results and Management Policies
Investing management resources in growth areas in order to realize our vision
In my job in charge of the NGK Group's finances, I will lead efforts to utilize financing, business portfolio management, and IR activities to help move business in the direction of the NGK Group Vision.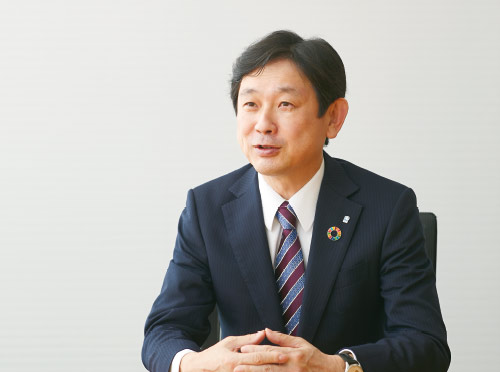 Duties of the head of finance
Implement capital policy that contributes to raising corporate value
As the head of finance, whose duties revolve around minimizing capital costs and maximizing profitability in excess of capital costs, is responsible for formulating capital policy and maintaining clear and appropriate communication with shareholders and investors. One of our key management indicators is ROE (return on equity), and our medium-to-long-term target for ROE is 10%. Using NGK ROIC (return on invested capital), which is closely linked to ROE, as a management indicator, we are pursuing management that prioritizes capital efficiency.
Moving forward, we will continue to support top management from a financial perspective while also keeping them in check.
Towards realization of the NGK Group Vision
Focusing on investments and R&D in new fields
We are anticipating sustained returns on the capital investment that we made over the past five years. This free cash flow will be used for capital investment in carbon neutrality and digital society, two focuses of the NGK Group Vision, and focused investment in research and development, aiming for a milestone target of 100 billion yen in sales from new product business*1 by 2030.
However, issues such as how to sell products and how to cultivate a market for them make it difficult to get the ball rolling for new businesses, so achieving 100 billion yen in sales is a tall order. Starting in fiscal 2021, we have created a new project team that will develop carbon neutrality-related products as our third pillar, and it is important that we invest resources into such fields.
*1 Business that will be launched in future and businesses that are still quite small in scale.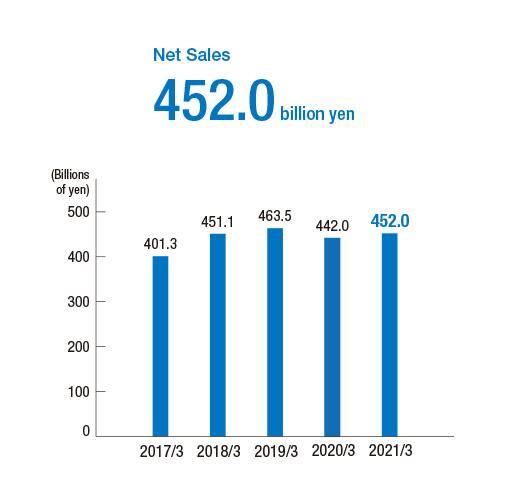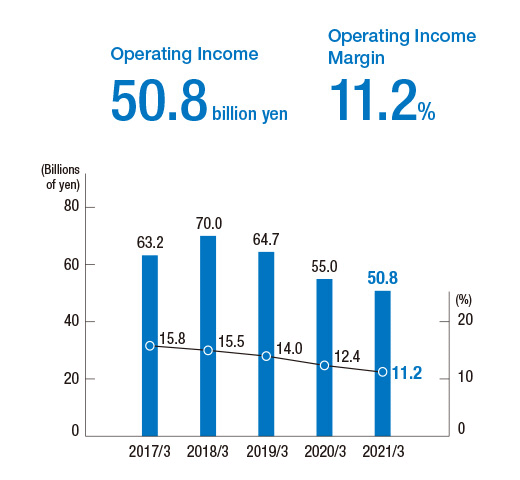 Key indicators
Using NGK ROIC as a management indicator
The five key management indicators that we focus on are net sales, operating income, net income, ROE, and NGK ROIC. Operating income represents business results and is used as the basis for determining input into growth sectors, return for stakeholders, and retained funds. Net sales are a measure of growth, while ROE is used as an external indicator and NGK ROIC as an internal indicator.
NGK ROIC = Operating income ÷ Business assets
A key aspect of NGK ROIC is that it utilizes business assets (accounts receivable, inventories, fixed assets) in lieu of invested capital, and operating income in lieu of after-tax operating income, as these are directly connected with the results of business divisions, or can be controlled by business divisions.
NGK Group business represents highly capital-intensive process manufacturing; thus, while the profit potential is high, the asset turnover ratio is low, being about 0.5. The burden of capital investment is a barrier for competitors entering this industry. An excessive amount of assets can lead to inefficiency in managing them, and, in recognition of this, we have been using NGK ROIC as an indicator since 2016. In order to optimize inventories assets and fixed assets on the balance sheets of each business division, targets are established and performance is tracked, with the managers in charge of a given business area explaining inventory reductions and investment efficiency at biannual budget meetings, in some cases to the president directly.
In addition to this, from fiscal 2021, we have begun ROIC tree-based management, which we break all the way down to items such as net sales cost ratio, SGA (selling, general, and administrative) expense ratio, and inventory/accounts receivable turnover period (in months) at the level of the individual business division in order to facilitate business improvement.
The NGK ROIC target for fiscal 2021 has been set at 12%. When you take taxes and expenses into account, a 12% rate is required in order to achieve an ROE of 10%. We explain to the entire NGK Group that if we don't exceed this figure, we cannot provide investors with the level of returns they desire.
Looking at the performance forecast for fiscal 2021, with the post-COVID-19 rebound in demand, particularly for automotive-related products, insulator and package businesses are expected to move into the black, with profitability expected to improve significantly. With impairment of fixed assets and business restructuring well on the way to completion, depreciation costs are expected to slow down gradually due to low investments compared to previous years. In terms of efficiency, as well, inventory reductions and other factors are keeping financial leverage at around 0.4, which puts us on track for ROE of 10% or more.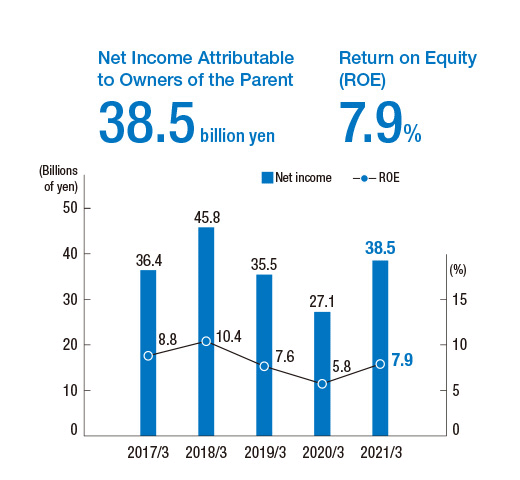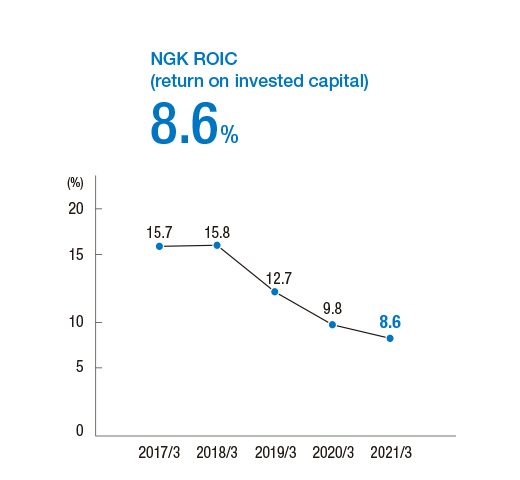 Capital policy and financial strategy
Emphasizing soundness and maintaining a minimum rating of at least A+
With regard to debt-to-equity structure on the balance sheet, we are aiming for a DE ratio of around 0.4. This will preserve an equity ratio of at least 50%, enabling us to ensure our bond rating remains at least A+ (R&I). At present, liability costs are low compared to capital costs, but, because, an increase will upset our financial equilibrium, we believe this is a reasonable level for achieving both capital efficiency and financial soundness.
In terms of financing, we think about timing, amount, and time frame based on a forecast of cash flow three years out. We prioritize economic cost while adopting a mix of long and short-term financing to ensure there is no overlap in repayment timing.
In addition, we focus on net DE ratio*2. Due to past incidents, such as NAS battery fires and anti-trust cases, which required cash outflow, as well as due to active capital investment, we borrowed 305 billion yen over the past 10 years. As of March 31, 2021, our net cash total was minus 97.8 billion yen, with an interest-bearing debt balance of 264.2 billion yen. In order to put our net cash back into the black, we are emphasizing cash flow in our managerial decisions.
We have embarked on a plan to invest 300 billion yen into research and development over the next 10 years as part of the NGK Group Vision. The money to fund this investment can come from the cash flow generated by our business. We intend to maintain our DE ratio by balancing interest-bearing debt repayment with borrowing.
*2 Net DE ratio = (Interest-bearing debt as of the end of the previous fiscal term – Cash and cash equivalents as of the end of the previous fiscal term) ÷ Equity as of the end of the previous fiscal term × 100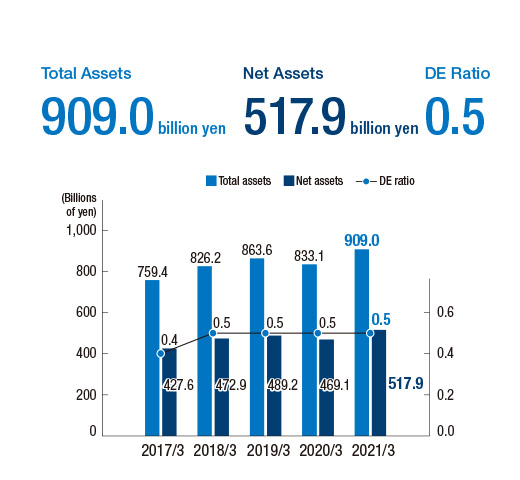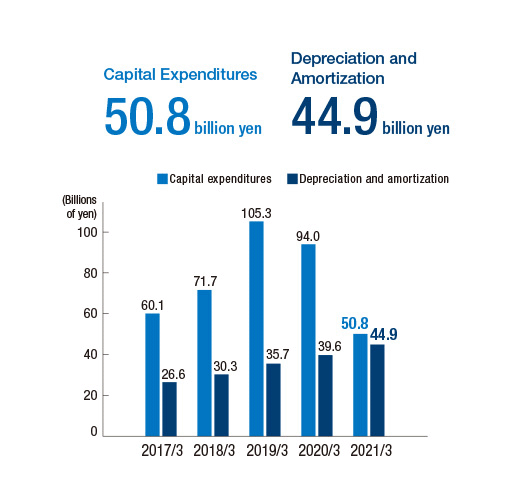 Shareholder returns and IR
Lowering capital costs by communicating with investors
Our profit return policy aims to achieve a medium-term consolidated dividend payout ratio of around 30%, which is paid as direct shareholder returns. We make use of three-year moving averages, due to the fact that net income fluctuates from year to year as a result of such factors as extraordinary income and loss and tax burden. Also, starting from the period ended March 2021, we have added net asset dividend ratio as a new metric to complement dividend payout ratio. Our three-year moving average target is 3%. This is because multiplying ROE with the dividend payout ratio gives a net asset dividend ratio of 3%.
In fiscal 2021, we also acquired 5 million shares of treasury stock at 9.7 billion yen. The NGK Group has also been proactive about shareholder returns from a medium-to-long-term perspective and is condensing shareholders' equity through the acquisition since 1996 of a cumulative total of 108.93 million shares of treasury stock at 135.6 billion yen.
Since the 1990s, NGK has undertaken IR activities aimed at increasing ROE. In addition to financial results briefings for investors held biannually in Tokyo, major securities companies host a forum for overseas investors. We also undertake overseas IR twice a year. Recently, due to the impact of the COVID-19 pandemic, we have focused on online communications, along with phone interviews and personal visits with institutional investors totaling around 160 sessions for the year. We also carry out IR targeting individual investors.
We recognize that, at 8.7%, the NGK Group's capital cost is high and that we have a high β value*3. In order to lower this capital cost, we need to communicate with investors through IR activities to close the gap in future awareness. We are also explaining the governance initiatives that we have put in place to make sure investors understand that a new system has been established for safeguarding against a reoccurrence of past problems. Also, because gasoline-powered, diesel-powered, and other internal combustion engine-related business accounts for such a large portion of NGK Group sales, I feel this creates resistance to purchasing our shares due to the global trend towards EVs. But the reality is that sales of internal combustion engine automobiles will not suddenly decrease before 2030. We carefully explain to investors that in the meantime we are taking the cash we earn and aggressively investing it in areas such as carbon neutrality and digital society.
Following our announcement of the NGK Group Vision, investors have complimented us on how clear and easy-to-understand the Group's direction has become. We are also embarking on our NGK Group Environmental Vision, which aims to realize net zero CO₂ emissions by 2050. We are therefore investing time and energy into meeting with ESG investors to explain the ESG management-centered goals that we are working toward.
*3 β = Securities-specific returns ÷ Overall market returns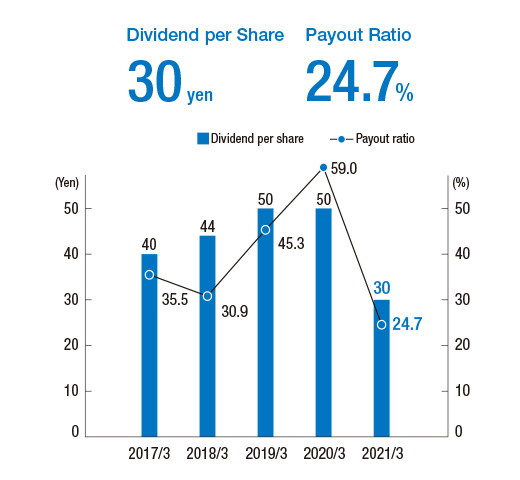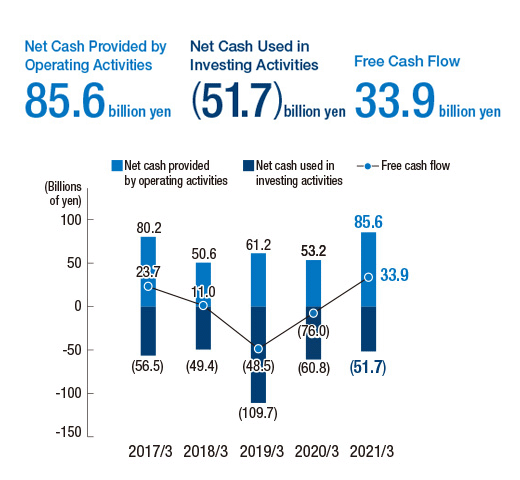 Note: This interview was conducted in May 2021.