Investor Relations
To NGK's Shareholders
Capitalizing on What We Have Built to Become a Truly Global Company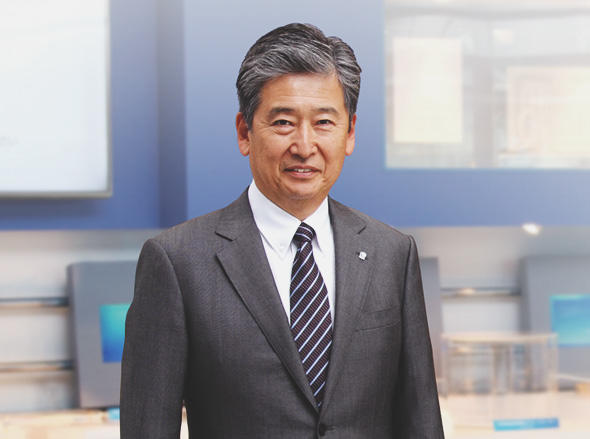 On May 5, 2019, the NGK Group marked the 100th anniversary of its founding. The journey of growth that has brought us here would not have been possible without the support of our customers, shareholders, local communities of where we do business worldwide, and our many other stakeholders. For this I offer my heartfelt gratitude.
Looking ahead, we want to capitalize on all that the NGK Group has built up to this point and apply our unrivaled technological strength to the development of products that exceed society's expectations and allow us to contribute to the world as a truly global company. We would like you to expect to see further development of the NGK Group in the future.
Business overview and future outlook: No change in production increase investments
Fiscal 2018 was a year of drastic market fluctuations. Initial performance predictions were revised for the latter half of the year and, later, had to be revised downward even further, ultimately resulting in decreased profits compared to the previous year despite achieving record-high sales. Group performance was negatively impacted by a variety of factors, including expanding deficits for the Power Business, shrinking profits in the Electronics Business, and operating loss on liquidation of our Chinese insulator manufacturing subsidiary.
Fiscal 2019 also presents us with a chaotic global economic situation stemming from economic friction between the U.S. and China, Brexit, problems in the Middle East, and many other factors. Nevertheless, for our automotive-related business, we anticipate that the more stringent exhaust standards being enacted in various countries will drive major demand for gasoline particulate filters (GPFs) used to remove particulates from gasoline-powered automobile exhaust. Also, there was overall business growth for automotive diesel particulate filters (DPFs), spurred on primarily by demand from large vehicles. Sales of NOx sensors are also growing as a result of more and more customers utilizing multiple NOx sensors per vehicle. These are contributing to an overall upward trend that is expected to continue for automotive-related products. Looking at our electronic components-related business and other business segments, the situation is good with a host of new products coming out one after another. In the power business segment, NGK is removing unprofitable products, conducting large-scale streamlining via redeployment, and taking steps to improve productivity so as to return to profitability as quickly as possible.
Currently, there is no change in the status of the roughly 300 billion yen NGK is investing to increase production. For GPFs this year, in addition to starting up a second plant in China, NGK will increase production in Poland as well. Also, the new plant in Tajimi, Gifu Prefecture will begin production of ceramics for semiconductor manufacturing equipment in the fall. This plant is characterized by its integrated production system that will boost output by roughly 30% and productivity by around 40% compared with existing plants. This will enable us to finally meet customer demand.
In Fujiyoshida, Yamanashi Prefecture, we will be launching a new plant that will help us meet the growing demand for electronic components, as well as handle production of new products being introduced more widely on the market.
From the various initiatives undertaken by NGK have emerged new products that anticipate future demand. A good example is the EnerCera chip-type ceramic secondary battery. These lithium-ion secondary batteries utilize NGK's own crystal-oriented ceramic plate as electrodes to achieve high energy density within a small and thin body. They have been well received in the industry. One prominent technology journal has lauded their outstanding performance, and at the CES 2019, the world's largest consumer electronics trade show, the batteries received the Innovation Award.
Following sample shipments to customers, we began mass production this April. Used as a power source, these batteries can be used to improve security and convenience, such as by incorporating them into credit cards to power fingerprint authentication or wireless communication. They attracted a high degree of interest from automakers at CES, due to the fact that these batteries can be used with smart keys to resolve the recent problem of car theft that has arisen as a result of thieves performing fraudulent unlocking via exploitation of weak electromagnetic signals. We are very excited about the future of this product.
R&D: Investing financial and human resources in targeted fields to meet the needs of the era
In order to ensure the continued growth of the NGK Group in the medium and long term, we must keep developing products focused on the needs of the next era. This is why we treat active investment of human and financial resources into R&D as a fundamental part of our business.
For the current term, we plan on spending 25 billion yen on R&D, which is equivalent to 5% of our sales. This amount is roughly double what it was five to six years ago. This means there are many research fields we should invest in. In addition to basic R&D activities, we also pursue development and joint research focused on the specific needs of customers.
Our R&D policy is to target growth markets and those fields where our distinctive technology can give us a competitive advantage. We have adopted this policy based on past experience that has taught us that trying to cover as many fields as possible ends up producing very little in any one field. For example, it was by successfully capitalizing on our own crystalline orientation technology that we developed EnerCera.
One product that has emerged from our R&D for which we anticipate future demand is our gallium nitride(GaN) wafers. These wafers are incredibly defect-free (i.e., little positional aberrations of atoms in GaN crystals), making them suited for use in the base substrates of semiconductor laser devices, power semiconductors, and 5G high-frequency wireless communication amplifiers (high-frequency devices). These wafers are already available for commercial applications in semiconductor laser devices. However, just like silicon wafers, this material is one that will underpin a variety of different industries, which means it has interesting potential in power semiconductors and high-frequency devices, as well. As plug-in hybrid vehicles (PHVs) and electric vehicles (EVs) become more widespread, a variety of commercial applications for these wafers will emerge, such as in the light source of laser headlights, or in the on-board inverter required for electrification of vehicles. We are already developing and introducing products to meet these needs.
Another commercial application that we are currently developing and which is geared towards PHVs and EVs is an all-solid-state battery that we call "all-ceramic battery." Many companies make use of a sulfide-based electrolyte, but the NGK Group has adopted an oxide-based ceramic material, which is highly safe. While this makes it more difficult to manufacture due to the fact that crystalline orientation technology is required, we are well along in the development process thanks to our existing ceramic material technologies, which we can capitalize upon.
Additionally, a demonstration testing with large ceramic membranes for CO2 separation that we are currently developing will be launched soon. When CO2 is injected into oil fields, it improves the fluidity of the highly viscous crude oil and allows more of it to be extracted, but the associated gas that emerge with oil extrusion contain CO2 as a contaminant to methane gas that is major component of the associated gas. These membranes would be used to separate CO2 from useful methane gas. This separated CO2 can once more be injected into the oil field. Not only does this increase the amount of crude oil extracted, it traps a portion of the CO2 within the ground, thereby helping to mitigate global warming.
With regard to the development of solid oxide fuel cells(SOFCs), a basic agreement has been concluded by four companies in the Morimura Group - Noritake, TOTO, NGK Spark Plug, and NGK Insulators - to establish a four-party joint venture.
SOFC systems are small-scale power generation systems that achieve output efficiency equal to or exceeding that of large, cutting-edge thermal power stations. There is great expectation surrounding this technology in terms of how it can contribute to the realization of a low-carbon society. The details of the joint venture is now under discussion by the four participant companies.
NGK Insulators, Ltd.
President

Inquiry about Investor Relations
Please apply with the contact form and give us your comments or questions.