Product
NGK to Expand and Enhance Its Global Production System for Ceramic Products for Purifying Automotive Exhaust
May 14, 2015
Decision to Establish a New Production Base in Thailand
NGK INSULATORS, LTD. (President Taku Oshima; Headquarters: Nagoya, Japan) announced today that it has decided to establish a new production base in Thailand to manufacture ceramic products for purifying automotive exhaust. The base will be built to expand and enhance NGK's global production system and ensure the stable supply of the ceramic products in response to growing demand in the emerging markets of Asia over the medium to long term.

Demand for ceramic products used in exhaust gas purification is expected to grow in Southeast Asia, India and the other emerging markets of Asia in step with an increase in automobile production and the tightening of exhaust gas regulations. NGK is currently producing HONEYCERAM and large-size HONEYCERAM exhaust gas catalytic converter substrates at a manufacturing subsidiary in Indonesia. The new production base in Thailand will be established to expand and enhance NGK's global production system and ensure stable supply of the ceramic products to the emerging markets of Asia, where demand is expected to grow over the medium to long term.

NGK plans to produce two types of diesel particulate filter (DPF) made from cordierite and silicon carbide (SiC), in addition to HONEYCERAM and large-size HONEYCERAM substrates, at NGK CERAMICS (THAILAND) CO., LTD., the new manufacturing subsidiary established in Thailand. Plans call for starting the production of HONEYCERAM from April 2018 and conducting capital expenditure in stages to successively expand the items produced. Total capital expenditure is projected to reach approximately 50.0 billion yen by 2020.

NGK is currently manufacturing ceramic products used in automotive exhaust gas purification at 9 production bases in 8 countries.* A second plant under construction at a manufacturing subsidiary in Poland is scheduled to be completed in 2017, and the plant in Thailand will become NGK's 11th production base in a 9th country.

*Japan (Headquarters, Ishikawa Plant), Belgium, the U.S., Indonesia, South Africa, China, Poland, Mexico

Overview of NGK CERAMICS (THAILAND) CO., LTD.
Name: NGK CERAMICS (THAILAND) CO., LTD.
Location: Asia Industrial Estate, Samut Prakan Province, Thailand
Establishment: May 2015
Paid-in capital: 1.35 billion baht
Investment ratio: NGK INSULATORS, LTD. 95%, Sumitomo Corporation 5%
Site area: Approx. 227,000 m2
Employees: Approx. 200 at start of production (Approx. 1,000 at full production)
Items produced: HONEYCERAM, large-size HONEYCERAM, cordierite DPF, SiC DPF
Start of production: April 2018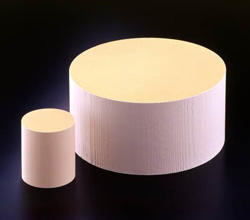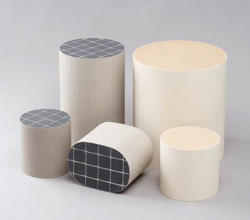 HONEYCERAM exhaust gas catalytic converter substrate for gasoline-powered vehicles
HONEYCERAM is used as a ceramic catalyst substrate for a catalyst that purifies harmful substances, such as hydrocarbons (HC), carbon monoxide (CO) and nitrogen oxide (NOx), in automobile exhaust gas.

Large-size HONEYCERAM exhaust gas catalytic converter substrate for diesel-powered vehicles
Made of cordierite, large-size HONEYCERAM is used as a catalyst substrate for an oxidation catalyst that removes particulate matter, and for a selective catalytic reduction catalyst that removes nitrogen oxides in the exhaust gas from diesel engines of large commercial vehicles such as trucks and buses.

Cordierite DPF
A cordierite DPF employs thin ceramic walls as a filter by alternately closing off the ends of HONEYCERAM. This enables the removal of particulate matter in exhaust gas. A cordierite DPF is used mainly in trucks and other large vehicles because it is lightweight even in large sizes, given its lower specific gravity than a SiC DPF.

SiC DPF
SiC DPFs are used mainly in passenger cars because they are more heat resistant, and can capture and incinerate a greater amount of PM than cordierite DPFs.