Product
Chip-type Ceramic Secondary Battery "EnerCera" Series of New Power Sources for IoT Devices Exhibiting a Power Source Module Jointly with TOREX SEMICONDUCTOR LTD. in CES 2020
December 23, 2019
NGK INSULATORS, LTD. (hereinafter "NGK") based in Nagoya, Japan, announced that it will exhibit a maintenance-free small power source module for IoT devices at CES 2020 jointly with TOREX SEMICONDUCTOR LTD. (President: Koji Shibamiya, Headquarters: Chuo-ku, Tokyo; hereinafter "TOREX"). This power source module has combined the EnerCera series and TOREX's power source IC. CES 2020 is one of the largest consumer electronics trade fairs in the world, and will be held from January 7 to 10, 2020 in Las Vegas in the U.S. NGK will join the fair for the second time, following on from 2019.

NGK will exhibit the EnerCera Pouch module, which can be embedded in an IC card with hot lamination, and the EnerCera Coin module, which can be mounted on a circuit board with reflow soldering. Combining the ultrasmall, thin, and low-resistant EnerCera series with TOREX's compact and thin power source IC that consumes very little power, the modules are microminiature, thin, and highly efficient modules optimal as a power source for maintenance-free IoT devices. The EnerCera Pouch module can be incorporated in thin devices like smart cards and wearable devices without impairing the EnerCera Pouch's thinness and size. The EnerCera Coin module targets application to IoT devices, electronic shelf label, beacons (short-distance wireless communication equipment), RFID tags, smart keys and more, and is planned to be mounted on the surface of devices' main substrates.

As IoT becomes widely available on a full scale, there are demands for maintenance-free IoT devices that run on a wireless power supply, on weak electricity generated from device periphery light and heat, vibration energy, and others that do not require battery replacement or charging.

The EnerCera series is a secondary battery that is optimal for maintenance-free IoT devices. It can efficiently charge itself with a weak current and perform an intermittent large current discharge for sensing and communication. When designing devices that use secondary batteries, a power source IC is needed to control the charge and discharge. Strong needs exist for commercializing a module that is integrated with a small and highly efficient power source IC while keeping the EnerCera series' features, so NGK decided to exhibit a sample of the power source module at CES 2020 jointly with TOREX. In this trade fair, NGK will collect additional needs for module design and operation specifications to achieve early commercialization.

The EnerCera series is a lithium ion secondary battery using NGK's original crystal-oriented ceramic plate as electrodes. The series is characterized by high thermal resistance that allows the batteries to be mounted on devices at high temperatures. The series includes a thin EnerCera Pouch for IC cards and a coin-type EnerCera Coin for circuit boards. NGK has mass-produced the series since 2019 for application in various devices that require small, thin, and high-capacity batteries, such as IoT devices, beacons, smart cards, RFID tags, electronic inventory tags, wearable devices, and solar watches. At the NGK booth, the Company will exhibit a high heat resistance model of EneraCera Coins, which achieved a world's first for a lithium-ion secondary battery of an operating temperature of 85°C. Samples have been shipped since December 2019.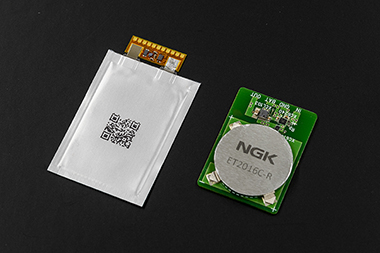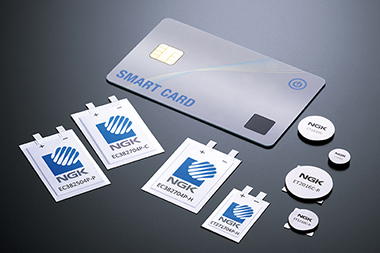 Overview of the CES 2020 Exhibition
Period:
Tuesday, January 7 to Friday, January 10, 2020
Location:
Las Vegas, Nevada, U.S.
NGK booth:
Tech East, LVCC, South Halls 3-4, Upper Level & Connector Booth No. 36708
Products exhibited:
EnerCera series, Zinc Rechargeable Batteries, Bonded Wafer for SAW Filter Application, Gallium Nitride (GaN) Wafers, and a Micro-lenses for Ultraviolet LEDs


NGK exhibits at CES 2020


About NGK
NGK is the world's largest manufacturer of electrical insulators, including 1,000-kV ultrahigh-voltage (UHV) transmission and substation insulators, and has a 100-year history. With foundations in exclusive ceramics technology, NGK contributes to environmental conservation, providing a wide range of products and technology in the "Triple E" growth fields of energy, ecology and electronics. NGK is also one of the largest manufacturers of HONEYCERAM and diesel particulate filters (DPFs) for catalyst converters for automobiles. NGK is also the world's leading manufacturer succeeding in commercialization of large-capacity energy storage systems (NAS batteries), which has overturned the conventional wisdom that power cannot be stored. Its President is Taku Oshima.


About TOREX SEMICONDUCTOR LTD.
Since its establishment in 1995, TOREX SEMICONDUCTOR (TSE First: 6616) has been the only exclusive analog power source IC manufacturer in Japan. TOREX provides one of the smallest highly efficient analog power source ICs in the world. The IC adds value to customers' products, and power source design solutions for accelerating customers'product development, with the motto of Powerfully Small for its manufacturing. TOREX's products are popular in markets including industrial machines, car accessories, communication, PCs, and wearable devices both in Japan and overseas.


About TOREX SEMICONDUCTOR LTD.