Product
NAS Battery Starts Operation at Nickel-Copper-Cobalt Mine in Australia
Contributing to Carbon Neutrality at Mines Through the Use of Renewable Energy
May 15, 2023
NGK INSULATORS, LTD. (hereinafter "NGK") announces that NAS battery system for storing electricity has started operation at a nickel-copper-cobalt mine in Australia. The NAS battery was delivered through BASF Stationary Energy Storage GmbH (hereinafter "BSES"), a subsidiary of German chemical manufacturer BASF SE. This marks the first installation of NAS battery in Australia.
The NAS battery system was installed alongside solar power generation facilities at the Nova nickel-copper-cobalt mine in Western Australia, which is operated by IGO Limited *1 (hereinafter "IGO"), a mining company. The NAS battery was deployed at a mine site due to the high technology suitability to the application mission parameters including the harsh operating environment. Specifically, the NAS battery's large capacity (long discharge time), strong environmental tolerance, and extensive installation track record, among other characteristics, to ensure the stable use of renewable energy even in the high-temperature environment of a mine, where maximum temperatures can reach nearly 50°C. NAS battery operational track record in the Middle East has verified the design principle to operate and deliver stable performance in extremely hot temperature environments.
The NAS battery will be used for the following applications: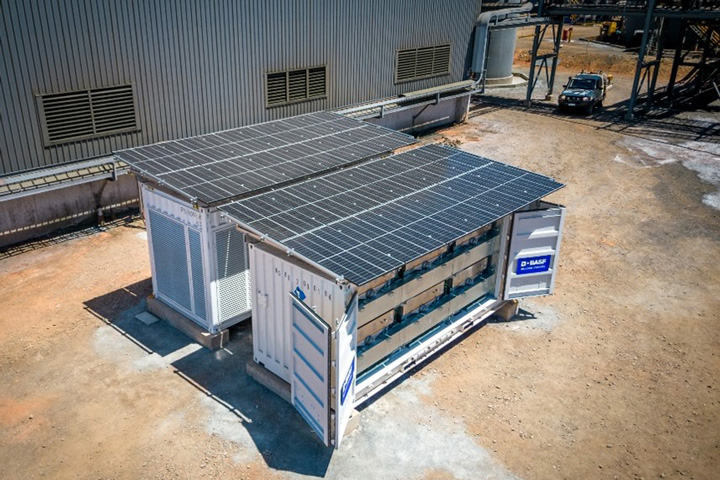 Moving towards achieving carbon neutrality at the mine
Companies all over the world are currently accelerating their efforts to reduce carbon dioxide (CO2) emissions throughout their value chains. In Australia, a resource-rich country, CO2 emissions from energy intensive processes, heavy machinery and construction machinery used at mines have become an issue. IGO is advancing efforts to electrify its mineral processing facilities and vehicles, with the aim of achieving carbon neutrality by 2035. The NAS battery will be used to model the ability of a Long Duration Energy Storage BESS to mitigate fluctuations in solar power generation output and achieve peak shifting of surplus electricity. They will facilitate the use of renewable energy, thereby contributing to reductions in indirect CO2 emissions from the use of energy such as electricity (Scope 2) and to achieve carbon neutrality at the mine.

Verification study of storage battery performance in high-temperature environments
The Future Battery Industries Cooperative Research Centre's (FBICRC) *2 National Battery Testing Centre, which is operated by the Queensland University of Technology in Australia, will remotely monitor the performance of the NAS battery in a verification study of battery performance. Additionally, the University of Western Australia will use performance data to model the battery to better understand the NAS battery and how it can be best utilized within Australian power infrastructure.
NGK and BSES established a sales partnership agreement for NAS battery in 2019, and they have expanded NAS battery sales through BASF's global sales network. Because NAS battery has a high environmental tolerance, they are used in applications including renewable energy stabilization and electric power demand and supply balancing in a variety of regions. They have been installed in over 250 locations around the world to date. NGK will continue to partner with BSES to further promote proposal and sales activities for NAS battery as a large-capacity storage battery with a strong track record, thereby helping to expand the introduction of renewable energy and to achieve carbon neutrality in all types of environments around the world.
Overview of the Delivered NAS Battery
| | |
| --- | --- |
| Installation site | Nova nickel-copper-cobalt mine (Western Australia) |
| Output | 250 kilowatt DC (maximum output) |
| Capacity | 1,450 kilowatt-hours DC (at the time beginning of lifetime) |
| Units installed | 1 (container type) |
| Applications | Mitigation of fluctuations in renewable energy output, peak shifting of surplus electricity, verification study project for storage battery operation |
| Start of operation | February 2023 |
About BASF Stationary Energy Storage GmbH (BSES)
BASF Stationary Energy Storage GmbH (BSES) is a wholly owned subsidiary of BASF SE. BSES distributes the NAS batteries and co-develops the next generation of sodium-sulfur batteries together with NGK Insulators Ltd.

About NAS batteries
NAS batteries are a megawatt class large-capacity storage battery, implemented practically for the first time in the world by NGK. The batteries feature large capacity, high energy density (compact), and long life, and can provide a stable supply of electric power with a high output over long periods of time. They have been installed at over 250 locations worldwide, with a total output of over 720,000 kW (720 MW) and total capacity of approx. 5.0 million kWh (5,000 MWh) installed. They are used for various applications, including peak cutting through load balancing and emergency power supply, as well as stabilization of renewable energy and construction of smart grids, thereby contributing to reduced environmental load and realization of carbon neutrality. NAS batteries have obtained the certification based on stationary storage battery safety standard UL 1973 (cell and module level) and a test report based on UL 9540A standard*, which is to verify batteries and storage battery systems fire risk, for confirming compliance with its evaluation criteria (cell, module and installation level) through the evaluation program of UL Solutions, a global independent safety science company.

*

NAS batteries container type (including the single batteries and modules on mounted) are covered.
Product information on NAS batteries