Product
NGK Receives Order for NAS Batteries for Demonstration Project in the Republic of Maldives
Contributing to the decarbonization of seawater desalination systems
July 19, 2023
NGK INSULATORS, LTD. (hereinafter "NGK") has received an order from BASF Stationary Energy Storage GmbH (hereinafter "BSES"), a subsidiary of German chemical manufacturer BASF SE for a demonstration project for a decarbonized seawater desalination system in the Republic of Maldives developed by Hitachi Zosen Corporation (hereinafter "Hitachi Zosen").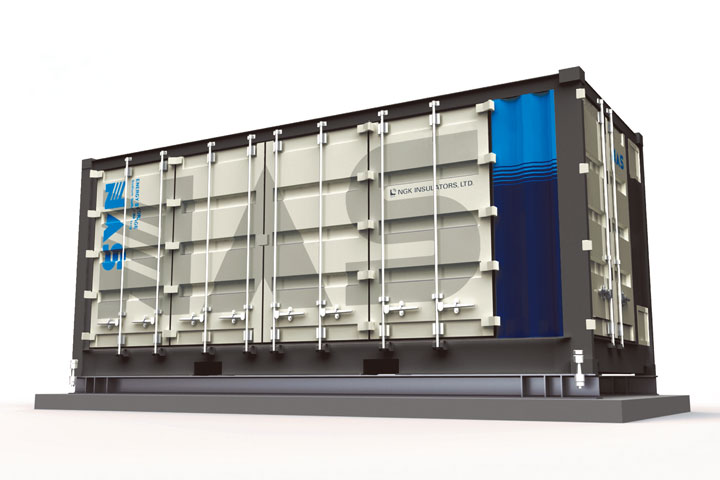 The NAS batteries will be used in the "Demonstration of a decarbonized seawater desalination system using solar power generation and NAS storage batteries in Maldives," which was selected by Hitachi Zosen under the "Financing Programme to Demonstrate Decarbonization Technology for Realizing Co-Innovation" *1, a publicly solicited project by the Ministry of Environment. The demonstration project aims to build a decarbonized seawater desalination system that uses solar power and emits no greenhouse gases on Gaafaru Atoll in the Republic of the Maldives. NAS battery was selected for this project because of their environmental resistance and past operational achievements in off-grid *2 and remote island microgrid *3 projects globally.

The Republic of Maldives, an island nation in the Indian Ocean, aims to become net zero by 2030 due to concerns about the loss of land due to rising sea levels caused by global warming, and is accelerating the introduction of renewable energy sources such as solar power. The country has also mandated that 30% of the power source for seawater desalination plants, which are indispensable for securing fresh water on remote islands, be derived from renewable energy sources by 2030. By taking advantage of the large capacity and long discharge time of NAS batteries, surplus electricity generated by PV can be stored in NAS batteries and supplied during cloudy days and nighttime, making it possible to effectively utilize renewable energy. Through the stable operation of a decarbonized seawater desalination system using solar energy obtained on any island, the project will contribute to the carbon neutralization of the entire Republic of Maldives.

NGK and BSES established a sales partnership agreement for NAS battery in 2019, and they have expanded NAS battery sales through BASF's global sales network. NAS batteries are used in applications including renewable energy stabilization and electric power demand and supply balancing in a variety of regions. They have been installed in over 250 locations around the world to date. NGK will continue to partner with BSES to further promote marketing and sales activities for NAS batteries as a large-capacity storage battery with a strong track record, contributing to the expansion of renewable energy introduction and realization of carbon neutrality globally.

Overview of the Delivered NAS Battery
| | |
| --- | --- |
| Installation site | Gaafaru Atoll in the Republic of the Maldives |
| Output | 250 kilowatt DC (maximum output) |
| Capacity | 1,450 kilowatt-hours DC (at the time beginning of lifetime) |
| Units installed | 1 (container type) |
| Applications | stabilizing renewable energy for the demonstration project of decarbonized seawater desalination system |
| Start of operation | Before July 2024 (planned) |
About BASF Stationary Energy Storage GmbH (BSES)
BASF Stationary Energy Storage GmbH (BSES) is a wholly owned subsidiary of BASF SE. BSES distributes the NAS batteries and co-develops the next generation of sodium-sulfur batteries together with NGK Insulators Ltd.


About NAS batteries
NAS batteries are a megawatt class large-capacity storage battery, implemented practically for the first time in the world by NGK. The batteries feature large capacity, high energy density (compact), and long life, and can provide a stable supply of electric power with a high output over long periods of time. They have been installed at over 250 locations worldwide, with a total output of over 720,000 kW (720 MW) and total capacity of approx. 5.0 million kWh (5,000 MWh) installed. They are used for various applications, including peak cutting through load balancing and emergency power supply, as well as stabilization of renewable energy and construction of smart grids, thereby contributing to reduced environmental load and realization of carbon neutrality. NAS batteries have obtained the certification based on stationary storage battery safety standard UL 1973 (cell and module level) and a test report based on UL 9540A standard*4, which is to verify batteries and storage battery systems fire risk, for confirming compliance with its evaluation criteria (cell, module and installation level) through the evaluation program of UL Solutions, a global independent safety science company.

Product information on NAS batteries



*1

Financing Programme to Demonstrate Decarbonization Technology for Realizing Co-Innovation : The financing program which aims to contribute to global environmental conservation by promoting renovation and demonstration of advanced decarbonization technologies to adapt to local specific circumstances of developing countries. Such renovation is expected to address environmental regulations, culture and customs, resource restrictions and the climate in each country.
Low-Carbon Technology Innovation

*2

Off-grid : A state of being unconnected to the power grid of an electric power company or other entity.

*3

Micro-grid : A system in which electricity is produced and consumed locally by means of local power storage facilities and renewable energy sources.

*4

NAS batteries container type (including the single batteries and modules on mounted) are covered.