Products
High-Temperature Dust Collector
Overview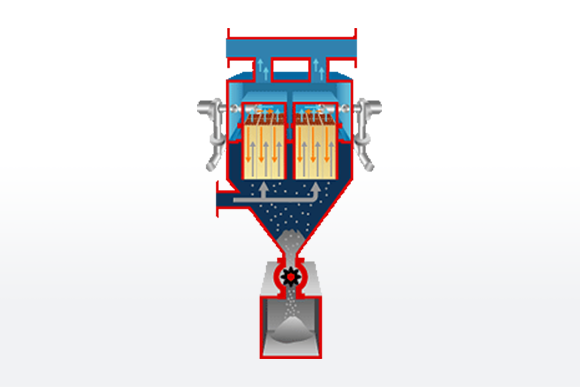 To date, mainstream technologies for conventional air pollution control equipment have been based on bag filters and electrostatic precipitators. However, bag filters pose various issues, including high total initial costs related to the cooling system, installation space requirements, and increased operating and maintenance costs arising associated with fiber damage caused by the opening and corrosion of the filter cloth. The problems associated with electrostatic precipitators include high maintenance costs and varying collection efficiency attributable to the electrical resistance of dust.

In response, NGK has made full use of its unique ceramic technologies as next-generation dust collectors, developing the CERALLEC SYSTEM, a high-temperature gas dust collector based on honeycomb ceramics.
Features
Supports high temperature gases
Taking advantage of the characteristics of ceramics, the filter itself offers heat resistance of 900°C.
Compact
The honeycomb-shaped filter reduces the installation space required to one-fifth to one-third that of conventional bag filters.
High dust collection efficiency
In addition to collecting submicron-sized fine particles, the CERALLEC SYSTEM can be used to recover silica, silicon, and rare metals, including nickel. No auxiliary agent is required for recovery. We anticipate a dust collection efficiency of 99% or better.
Flexible design to accommodate installation conditions
Vertical and horizontal element types are available to enable system design based on actual conditions at the installation site.
Economical
The filter's large filtration area makes it possible to reduce costs per unit of filtration area.
Product lineup
Inquiry about High-Temperature Dust Collector
Please apply with the contact form and give us your comments or questions.