Research Development
UHV AC Test Hall
UHV AC Test Hall / AC 1650kV High Voltage Source /
DC 500kV High Voltage Source / Corona Noise Instrument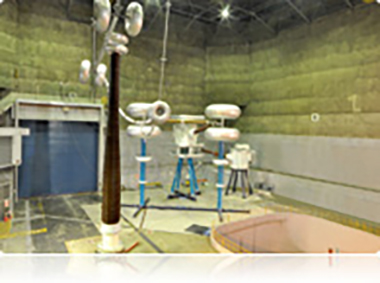 Outline of Test Facilities
Main Facilities
Outline
UHV AC Test Hall
Dimensions of hall:40m x 40m x 30m h.
Double-shielding system by expanded iron netting(Electromagnetic shielding effect:75dB at 1MHz)
Auxiliary equipment:AC high voltage transformers, Spray nozzle set, 3mf x 5mh. oil tank
AC 1500kV High Voltage Source
Transformers:750kV, 1375kVA, 2 units in cascade connection, corona free up to 1000kV.
DC 500kV High Voltage Source
Type:Delon-Greinacher circuit by using silicone rectifiers.
Rated voltage:500kV.
Rated current:30mA.
Corona Noise Instrument
Coupling capacitors:2000pF(500kV), 1000pF(1500kV)
Radio noise meters:NEMA type meter, CISPR type meter.
Partial discharge measuring instruments:MPD600 type.