Products
Suspension Insulators
Overview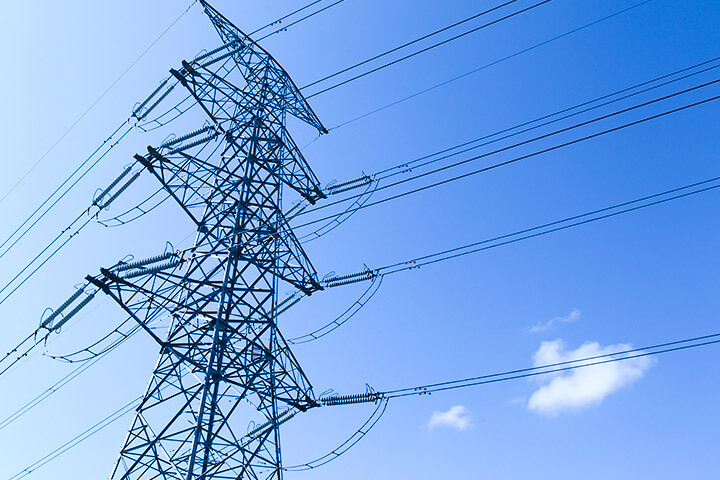 Insulators are essential to the safe and stable distribution of electricity generated at power plants. Suspension insulators support transmission lines on steel towers, isolating the lines from the tower. They play a key role in the safe supply of electricity.
Based on the transmission voltage and usage environment, suspension insulators are used in configurations of two or more.
Features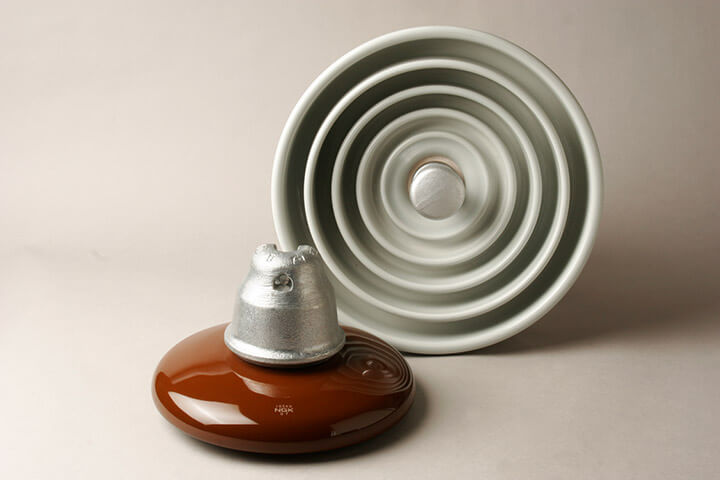 NGK Suspension (Disc) Insulators have been used successfully in more than 100 countries and in particular have a majority in EHV, UHV and HVDC transmission lines.
Available for any voltage and contamination level by changing number of insulators
Mechanical strength up to 530kN
High reliability through accumulated technology
Excellent long-term performance
Product Lineup
Various Types of Suspension (Disc) Insulators.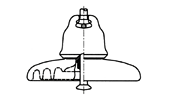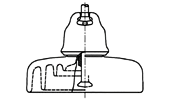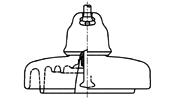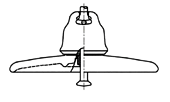 Application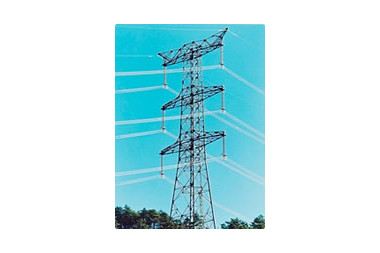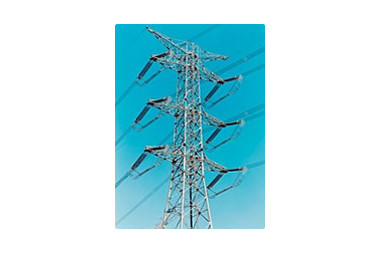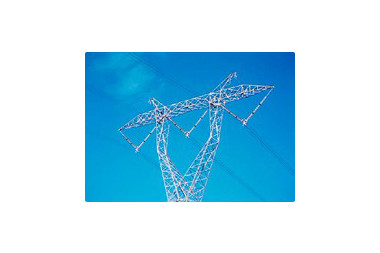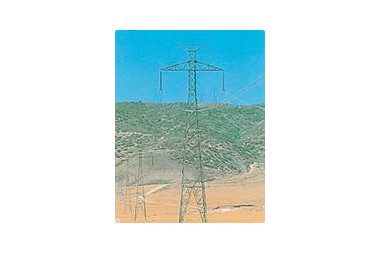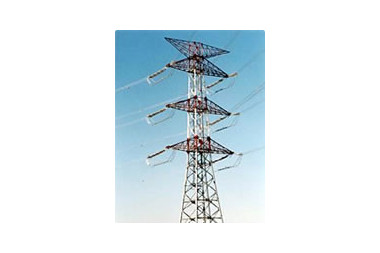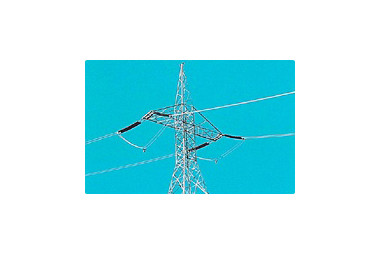 High Reliability
High reliability is achieved by long-term experience and accumulation of technology.
Selected High Quality Raw Material
High strength porcelain insulators require not only higher amount of alumina but also
Management of mining site
Sufficient technology of material analysis
Strict incoming inspection - Use only selected material
Fine and uniform distribution of particles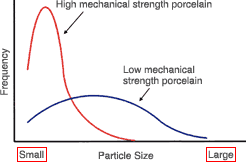 Optimum Design Engineering
Straight head design with less stress concentration
X-3s >= M&E rating with stable mechanical strength (X: average, s: standard deviation in M&E test*)
Light weight and compact design
*

M&E Test: Electromechanical failing load test as per IEC 60383-1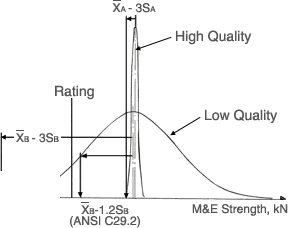 Advanced Manufacturing Technology
Automated mass production system
Uniform quality by continuous firing and production control
Control of porcelain thermal expansion
Forming without material damage
Accurate assembling without stress concentration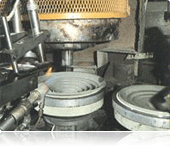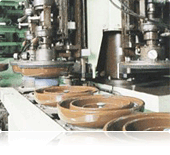 Strict Quality Control
In addition to ISO 9001 certified,
Routine hydraulic pressure test developed by NGK - Effective elimination of manufacturing defects
Total quality activities of preventive maintenance
Hydraulic Pressure Test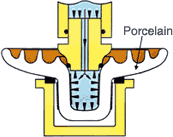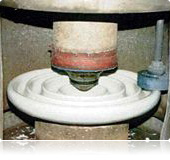 Excellent Long-Term Performance
Long-Term Performance Evaluation
Thermal-Mechanical (T&M) performance test as per IEC 60383-1 or ANSI C29.2 is to evaluate long-term reliability of insulators.
As these standards specify minimum requirements only, all NGK insulators have been confirmed to pass modified T&M test.


Test Method
IEC Pub. 60383-1
NGK Method
Load
60-65% of Specified
E&M failing load
(24-hour cycle)
60-65% of Specified
E&M failing load
(1-hour cycle)
Temperature
-30°C to +40°C
(24-hour cycle)
-40°C to +60°C
(8-hour cycle)
Duration
4days
15days
Acceptance Criteria for T&M Test
To exclude poor quality insulators, M&E test results before and after T&M test are:


No change in strength
No change in fracture pattern
No electrical puncture or no shatter
R-3s>Specified M&E failing load
(R: mean value, s: standard deviation)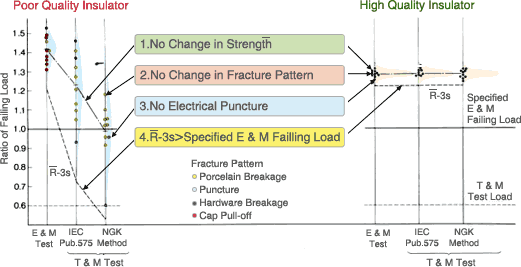 Zinc Sleeve
Contaminated and wet insulators display a biased leakage current having DC component. This DC component causes electrolytic corrosion and reduction of pin diameter.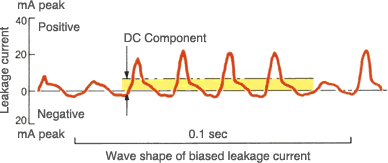 Pin Corrosion of suspension (disc) insulator
Resultant reduction of mechanical strength
Breakage of ceramic body due to expansion of pin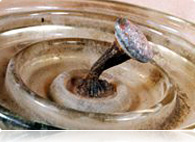 NGK developed Zinc Sleeve to prevent pin corrosion.
Galvanically positive
Large potential difference from iron
Sacrificial electrode at cement boundary
Bonded area of sleeve: Min. 80% of sleeve/pin interfacial area to prevent corona discharges
Purity of zinc >- 99.8% to prevent granular corrosion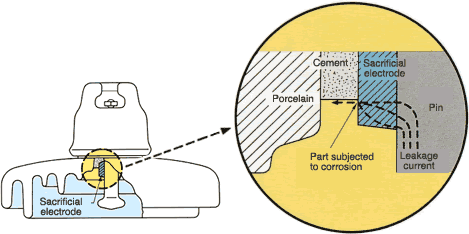 Test & Standard
NGK suspension (disc) insulators meet the requirements and tests of the following standards.
IEC Standard and Technical Report
| | |
| --- | --- |
| 60060-1 | High-voltage test techniques, Part 1: General definitions and test requirements |
| 60120 | Dimensions of ball and socket coupling of string insulator units |
| 60305 | Characteristics of insulator units of the cap and pin type |
| 60383-1 | Insulator units - Definitions, test methods and acceptance criteria |
| 60383-2 | Insulator strings - Definitions, test methods and acceptance criteria |
| 60437 | Radio interference test on high-voltage insulators |
| 60471 | Dimensions of clevis and tongue coupling of string insulator units |
| 60507 | Artificial pollution tests on high-voltage insulators to be used on a.c. systems |
| 60575 | Thermal-mechanical performance test |
| 60797 | Residual strength of string insulator units |
| 60815 | Guide for the selection of insulators in respect of polluted conditions |
| 61211 | Puncture testing |
| 61245 | Artificial pollution tests on high-voltage insulators to be used on d.c. systems |
| 61325 | Insulator units for d.c. systems - Definitions, test methods and acceptance criteria |
ANSI Standard
| | |
| --- | --- |
| C29.1 | Electrical power insulators - test methods |
| C29.2 | Wet-process porcelain and toughened glass - suspension type |
CAN/CSA Standard
| | |
| --- | --- |
| C411.1 | AC suspension insulators |
EHV & UHV Service Experiences
Transmission lines with higher system-voltage carry greater power flow. They serve the role of trunk feeder in the delivery of power. Instability in EHV and UHV line operation may cause great negative impact on the entire power system.

Thus, insulators for EHV and UHV transmission lines require not only endurance against higher electrical and mechanical stress but must also ensure uniformly high quality to maintain the reliability of system operation.

NGK insulators have been the choice for the majority of the world's EHV and UHV transmission projects because of quality and performance. Successful long-term service experience in higher system voltage illustrate the reliability and quality of NGK suspension insulators.
1,000 kV Kashiwazaki - Karima - Higashi Yamanashi, Japan
1,000 kV Minami Iwaki - Nishi Gunma, Japan
800 kV Anpara - Unanao, India
735 kV Levis - Des Castos, Canada
800 kV Kishenpur - Moge, India
800 kV Guri - Sur - Arenosa, Venezuela
765 kV Amos - North Protrvilk, U.S.A
Featured Products
Inquiry about Insulators and power equipment
Please apply with the contact form and give us your comments or questions.