Overview
Without using adhesive or applying heat stress by direct bonding at room temperature, our bonded wafer can be utilized for the characteristic of base substrate as it is on functional layer.

We can provide bonded wafer with ultra-precise thin polishing of functional layer by our unique precision polishing technology.

The thickness and tolerance of the functional layer and / or the supporting substrate can be customized upon customer's request.
Bonded wafer combinations
Supporting substrate that supports the functional layer can be selected depending on the application.
The respective characteristics such as "insulation", "thermal conductivity", "thermal expansion", and "rigidity" can be improved by various combinations of semiconductor and piezoelectric crystal for functional layer, and single / poly crystal (ceramics) /glass (amorphous) for supporting substrate.

We can provide substrate for "MEMS", "Power Semiconductor" and "High Frequency device (RF device / Radio Frequency device)" with various combinations.
Other combinations of materials are also supported.
For polycrystal ceramic, we can support the development of new material according to the required characteristic.
List of Bonded Wafer combinations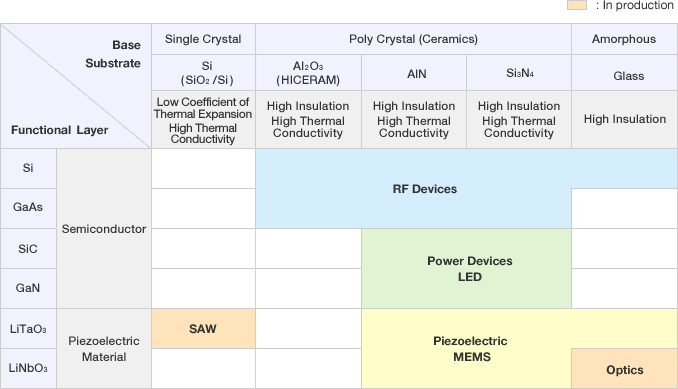 Product lineup
Inquiry about Electronic Components
Please apply with the contact form and give us your comments or questions.