Innovators of Tomorrow
Clean, connected ceramics: How NGK Insulators innovates for a better tomorrow
As the global demand for environmental solutions and semiconductors mounts, one Japanese company is reinventing itself to support a cleaner, smarter future.
It usually takes a downturn for a company to redefine its vision, but not for Japanese company NGK Insulators. 2021 saw the ceramics products maker post its highest sales and operating income in its 100-plus-year history, so it came as a surprise to many when the first act of Shigeru Kobayashi, who had become president at the start of that year, was to publish a new group vision outlining a radical, three-decade-spanning transformation of the business.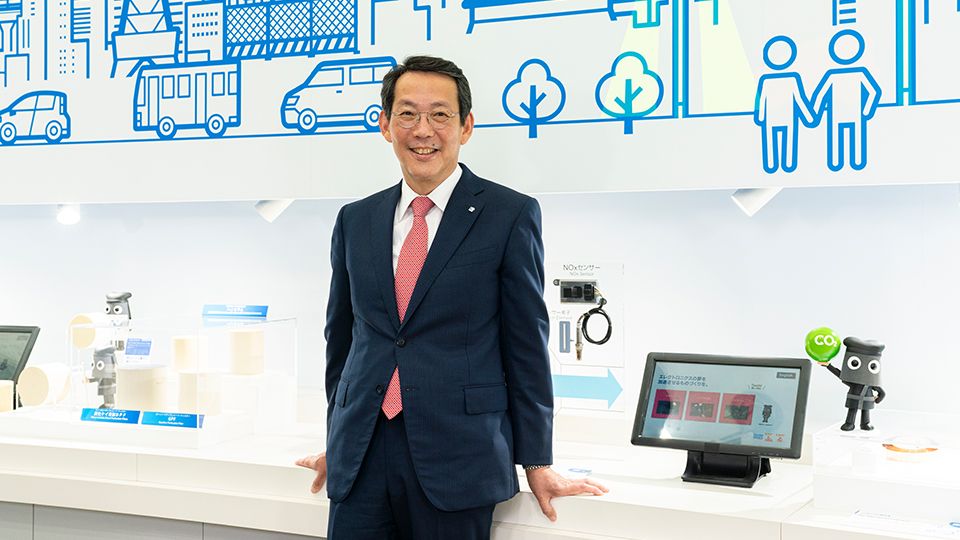 Why overhaul a model that's delivering record-setting results? Because the future is inherently uncertain. The automotive filters, catalytic converters and sensors for exhaust gases that NGK manufactures currently account for 60% of the company's sales, but Kobayashi is planning for a scenario where demand for internal combustion engine-related ceramics starts to fall post-2025, as increasing numbers of cars and small trucks go electric.
"The paradigm is changing," he says. "At some point, EVs will go mainstream. That's just a fact. We need new businesses for the company to grow. I put the vision out there because I want our employees and stakeholders to share my sense of crisis."
Looking at the company's history, NGK has experience pulling off radical business portfolio transformations. Founded in 1919 as Japan's first manufacturer of insulators for high-voltage electric transmission, the company was a global market leader by the 1950s. But paradoxically, the very quality of their products ended up diminishing their potential market. "Our insulators last 50 years, so making a sale was literally a once-in-a-lifetime opportunity!" jokes Kobayashi, who himself comes from the sales side.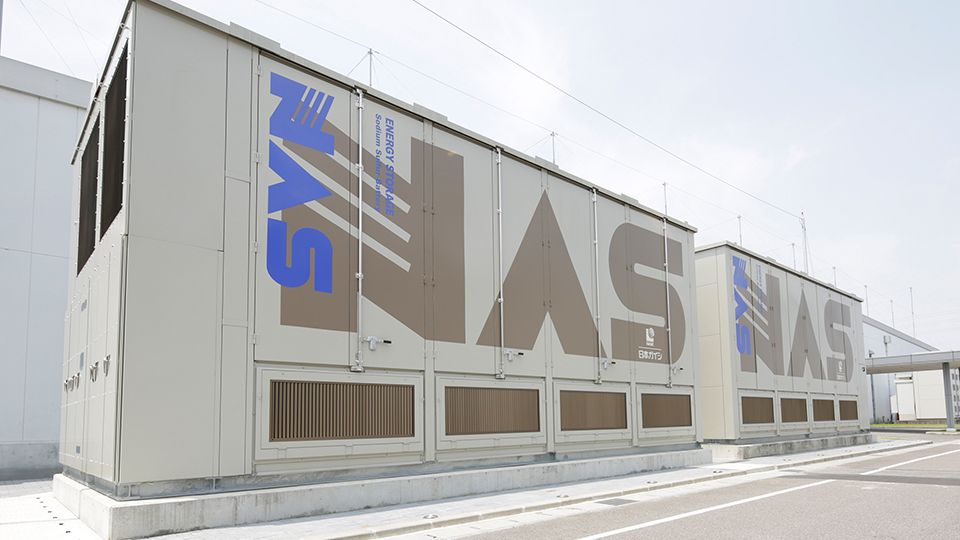 That was when NGK used the ceramics expertise it had developed from insulators to start manufacturing automotive products. This move to diversify coincided with growing concerns about air pollution and the introduction of stricter environmental regulations on a worldwide basis.
Now Kobayashi wants to apply the same sense of mission that inspired NGK to help Japan build a modern power grid and help the world fight automotive pollution by contributing to two areas of great contemporary relevance: carbon neutrality and the digital society.
Currently, these categories account for about 30% of NGK's ¥510 billion in annual sales, but Kobayashi is aiming to increase that figure to 50% by 2030 and 80% by 2050. That's why four-fifths of the company's R&D spending will go into carbon neutrality and digital society over the next decade. And that's why Kobayashi established a new division called Corporate NV ("New Value") Creation, made up of 100 hand-picked engineers, sales and marketing staff tasked with bridging the gap between advanced research and the practical commercial products customers want and society needs.
More renewables, less carbon
When it comes to reducing carbon emissions, NGK is hitting the ground running thanks to its strengths in batteries and CO2 separation membranes. The rise of renewable energy has given a new lease of life to NGK's NAS* batteries, high-capacity, long-duration sodium-sulphur rechargeable batteries originally used for peak-load shifting in the power-generation industry.
Depending on the weather, solar and wind energy can be intermittent. NAS batteries can help stabilise the grid while avoiding the emissions associated with making the same adjustments with thermal power. NGK's NAS batteries are already in use at more than 250 locations worldwide, and BASF Stationary Energy Storage GmbH, a subsidiary of German chemicals giant BASF, recently took over distribution in most overseas markets. "As a global company, BASF Stationary Energy Storage has an acute grasp of how the whole world is trying to cut CO2 emissions on a society-wide basis. They're an excellent partner," Kobayashi says.
Eager to offer services as well as products, NGK is currently running a demonstration test that uses blockchain technology to track the generation, storage and consumption of renewable energy in NAS batteries. The idea is that more traceable renewable electricity will be easier to share, trade and value, bringing the idea of "electricity as a service" one step closer to reality.
On the filtration side, NGK is leveraging its accumulated know-how from the automotive sector to develop large ceramic membranes with subnanometre-sized pores that can separate and capture carbon dioxide. The hope is that one day these membranes will play a role at every stage of the carbon cycle, not just separating and capturing carbon dioxide from industrial exhaust gases but also serving as reactors that combine the captured carbon dioxide with green hydrogen to produce synthetic fuels.
No one yet knows which fuel will replace oil in the coming decades, but change is coming. Whether hydrogen, ammonia or electrofuels come out on top, NGK wants to have the right products in place to make energy cleaner and more efficient. The strong relationships it already enjoys with the utility, automotive and chemical sectors should be an advantage.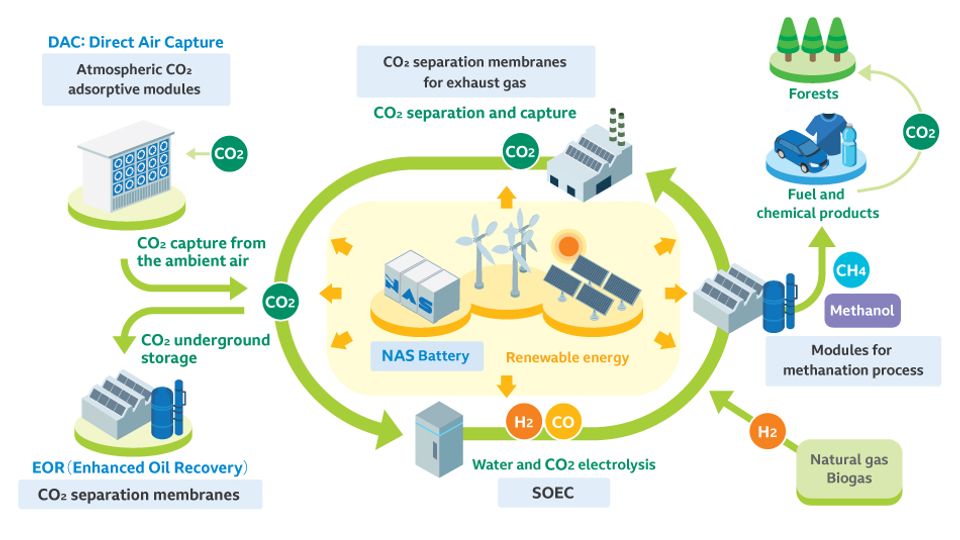 Smart solutions for a digital society
The zeitgeist is even more on NGK's side when it comes to serving the needs of the digital society. The company has a thriving business supplying high-performance components for semiconductor production like electrostatic chucks (which hold silicon wafers flat during etching) and ceramic heaters (which keep silicon wafers at a uniform temperature during membrane formation). The advent of 6G telecommunications, the metaverse and the Internet of Things (IoT), is expected to drive semiconductor demand higher and chip makers know that their productivity depends on the quality of their manufacturing equipment. Kobayashi is confident that applying material informatics to its database of ceramics knowledge will help it innovate even faster in this area.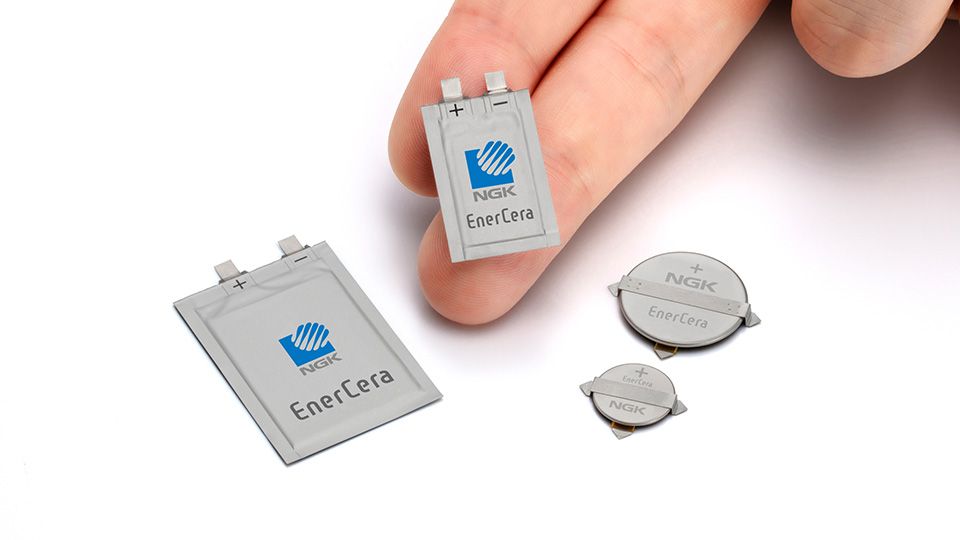 In IoT, meanwhile, Kobayashi has great expectations for EnerCera* battery, NGK's series of small lithium-ion rechargeable batteries. At the moment, more than 600 outside companies are evaluating samples of the battery and NGK has joined forces with multiple partners to develop novel applications, ranging from sensor tags for food traceability to medical smart patches. "EnerCera battery won loads of awards for its innovative technology, but it's the applications that really count," Kobayashi says.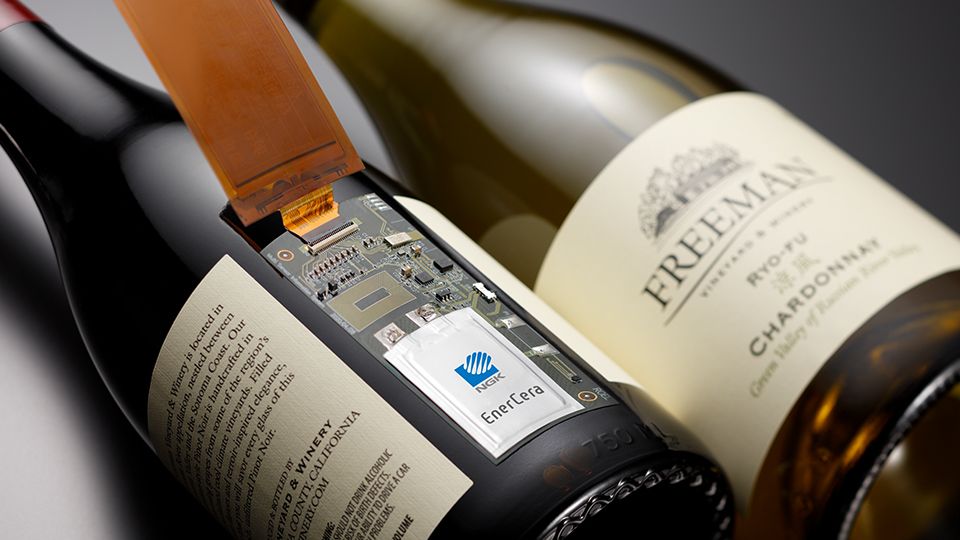 Japan-based, global impact
As the leader of a company that generates 70% of its sales outside Japan, Kobayashi's background is suitably international. Raised in the United States, he has been posted to four countries – the US, China, Indonesia and Canada – and visited a further 60 over his career. While this experience makes him acutely aware of the global competitive landscape, it's also a source of confidence.
"Japan's respect for craftsmanship constitutes a unique strength," he says. "We are the Japanese leader for ceramic materials, with strong businesses and a high market share in the automotive, semiconductor production equipment and electronics sectors. We are not a huge company, but our customers certainly appreciate what we do."
NAS and NAS logo, EnerCera are trademarks of NGK Insulators, Ltd., registered in the United States and other countries.