Products
Far-Infrared Heater (Examples of Proven Results)
Overview
The far-infrared heating system for carbon fiber reinforced plastic (CFRP) is a system for heating prior to press forming of thermoplastic carbon fiber reinforced plastic. It uses our INFRASTEIN far-infrared heaters as the heat source.
Carbon fiber reinforced plastic (CFRP) heating system
Continuous heating system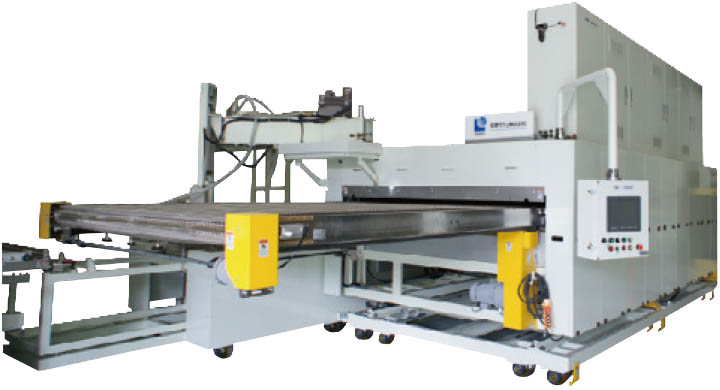 Features
Use of a mesh conveyor

This conveyor is capable of transporting and heating all kinds of workpieces from plate materials to extrusion-molded materials and jig transport. Other transport methods are also available to meet customer needs.

Material loading system

A transport system equipped with a special handling mechanism tailored to the material specifications (size, quantity, etc.) allows fast and precise transport into the furnace. Upon customer request, an industrial robot can also be used.

Loading of heated workpieces directly from the conveyor into the press

Ejection of heated workpieces into the press is accomplished by operating the conveyor and mesh separately, making a special ejection system unnecessary.

Line configuration (example)
Proven results using far-infrared heaters: Parts for automobile applications
Body painting, Gasoline tank, Various springs (engine, transmission), Floor carpet, Ceiling material, Sensors, Engine gasket, Battery tray, Instrument panel
Our heaters have been used successfully for many other automobile products as well.
List of Heating Systems
Inquiry about Industrial Heating Systems
Please apply with the contact form and give us your comments or questions.