Products
Roller Hearth Kiln
Overview
The Roller Hearth Kiln is a continuous fast firing kiln that transports products on rollers inside the kiln. It offers excellent temperature uniformity, cleanliness, and thermal efficiency.
The system provides firing conditions that meet customer needs through atmosphere controls for air, N2, O2, N2 + H2, and other gases, as well as precision temperature controls for each of the preheating, firing, and cooling zones. The system contributes to the production of all solid-state batteries and cathode and anode materials for lithium-ion batteries, essential for applications targeting carbon neutrality, for a carbon-zero society, and for MLCC and other electronic components that support our digital society.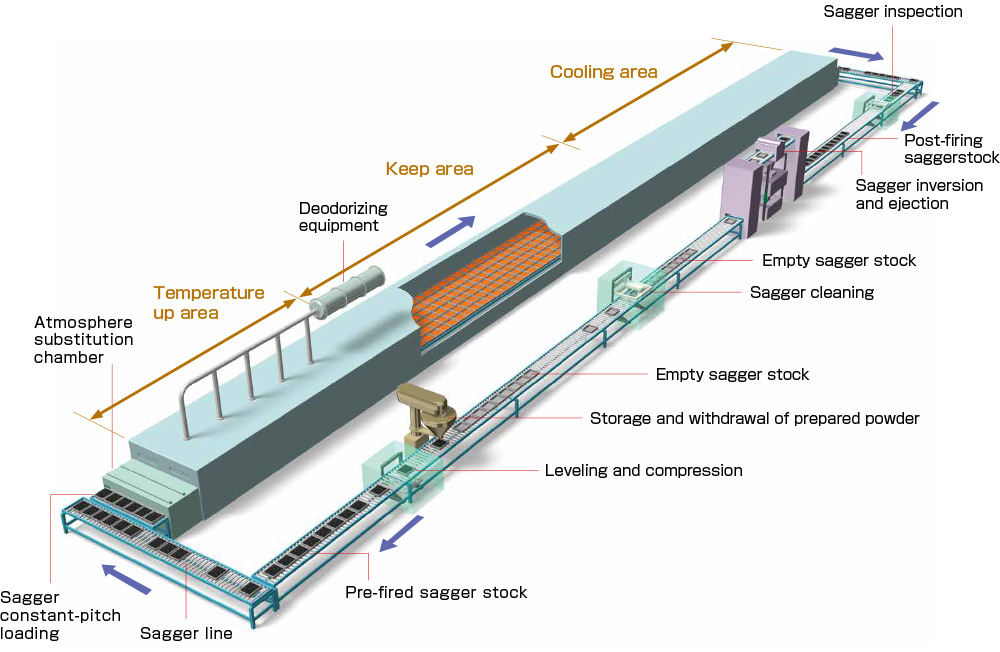 According to the powder material type, NGK adds the following processes and offers proposals for improving production efficiency and product quality.
Material powder feeding and compression
Powder compression increases production volume.
Optimization of the feeding shape minimizes temperature unevenness and improves product quality.
Powder collection system
This system cools the powder as it is collected. (Allows the cooling area to be shortened.)
Features
Improvement in production performance
Atmosphere control technology
NGK offers atmosphere control technologies compatible with O2 concentrations from below 50 ppm to 99% or higher. NGK products are backed by extensive experience in firing, from old ceramics such as sanitary ware and tiles to the latest cathode and anode electrode materials for lithium-ion batteries and MLCCs which support the decarbonized and digital.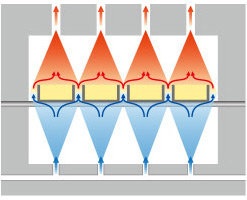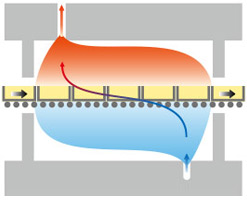 Rapid warm-up, Atmosphere switching technology
The kiln's special internal structure combined with a sensing gas supply and exhaust system achieve atmosphere switching within the same furnace and fast warm-up. This, in turn, allows use with MLCCs that require different materials to be sintered at different temperatures.

Boosting productivity while conserving energy
Multi-row/multi-stage tray transport to improve area productivity
NGK's high-strength rollers achieve multi-row/multi-stage tray transport for efficient production in limited site areas, typically yielding three-fold improvements in productivity.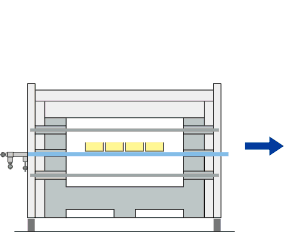 4-row standard insulator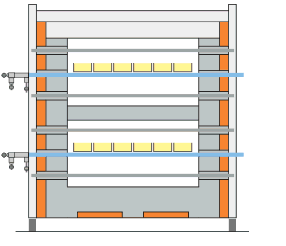 6-row, 2-level high-performance insulator
Productivity per area / 300%
Power consumption / Approximate 40% reduction*
For the same production volume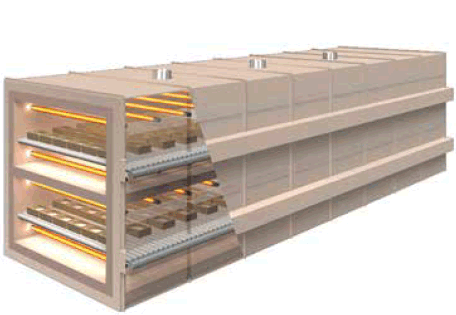 Energy saving
The combination of low thermal conductivity insulators and six-row, two-level tray transport cuts energy consumption by 40% or more. This reduces not just operating costs, but CO2 emissions, helping us move closer to carbon neutrality and the carbon-free society ideal.
Atmosphere gas saving
A special seal structure in the drive section and flat ceiling cuts atmosphere gas volumes by 20%, reducing operating costs still further.
Promises stable operation.
Reduced contamination
Ceramic components eliminate metal contact. NGK's Roller Hearth Kiln has won high marks and is backed by a solid track record of achievements in the battery and electronic component industries—industries where significant efforts are focused on inclusion of metallic foreign substances.
Total engineering for preceding and following systems
NGK also provides total customer support in aspects ranging from product supply and collection to stacking and unstacking of tools, which helps reduce factory labor requirements.
Stable product transport
A Universal Joint system, a proprietary NGK technology, achieves high precision transport on both sides of the rollers, enabling stable product transportation even in long furnaces.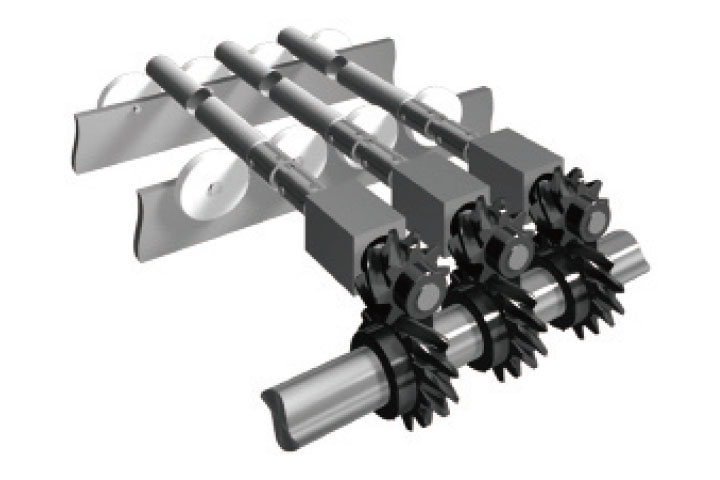 Examples of use
Lithium-ion battery materials (cathode and anode materials, precursor), Precursor, Ceramic capacitor (MLCC), Piezoelectric element, Thermistor, LTCC, Inductor, Ferrite, Magnet, Barium titanate, Catalyst, Sanitaryware, Tiles, Glass substrates, etc.
Specifications
| | |
| --- | --- |
| Temperature | Maximum heating temperature 1550˚C |
| Atmosphere | Air, N2, O2, N2 + H2, N2 + H2O |
| Heat source | SiC heater, Metal heater, Gas |
| Roller | SiC, Mullite, SUS |
| Kiln length | 1〜100m |
List of Heating Systems
Inquiry about Industrial Heating Systems
Please apply with the contact form and give us your comments or questions.