Overview
The Mesh Belt Kiln is a continuous kiln that transports products using a metal or resin belt conveyor. A gas supply and exhaust system can be installed and a heat source can be selected according to the process conditions.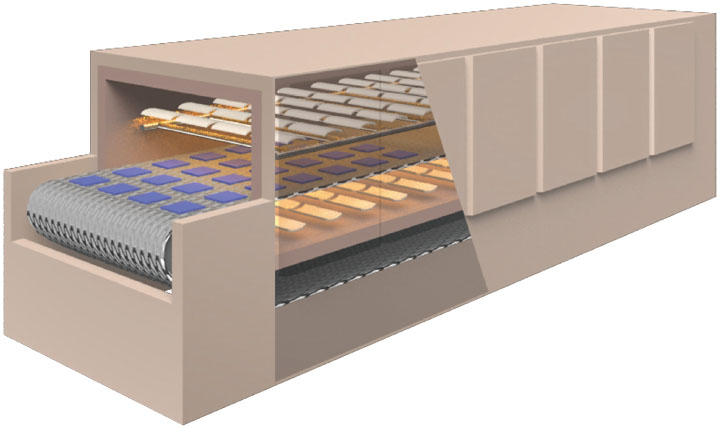 Features
With this heating kiln, products can be transported and heated while stationary on the conveyor, reducing the risk of displacement between entry and exit.
The transport method can be switched easily between takt and continuous transport to match the product and the preceding and following equipment.
The NGK original ceramic heater and air blow system deliver highly uniform heating.
The kiln provides advanced atmosphere control.

Gas Supply System
Gas can be supplied from front/back, left/right, or top/bottom.
The gas flow rate can be controlled.
The dew point (D.P) can be controlled.
Includes an oxygen concentration gauge, hydrogen concentration gauge, and dew point gauge.
Exhaust System
The exhaust flow rate can be adjusted using the ejector exhaust mechanism.
Examples of use
Carbon fiber, Thermoplastic resin, Greensheet, Food, Plastic products, Electronic components, Catalysts, Mat material, etc.
Specifications
| | |
| --- | --- |
| Temperature | R.T.~1,100℃ |
| Atmosphere | Air, N2 + H2(1% or less) |
| Heat source | Far-infrared heater, Near-infrared heater, Wavelength-control heater, Electric heater, Hot air |
| Belt material | Metal, Resin |
List of Heating Systems
Inquiry about Industrial Heating Systems
Please apply with the contact form and give us your comments or questions.