Initiatives for Harmony with Nature
Sustainability
Initiatives for Harmony with Nature
Approach to Protecting Biodiversity
As the NGK Group strives toward the realization of a sustainable society, we see our approach to protecting biodiversity as an important issue, and are carrying out the following initiatives.
Efforts to Support Post-2020 Global Biodiversity Framework Targets (Aichi Targets)
Our NGK Group Environmental Vision makes it clear that our goal is to help achieve coexistence with nature. To this end, we strive to live in harmony with nature by minimizing the environmental burden on ecosystems, and by raising the awareness of each employee through awareness-raising activities. Our Fifth 5-Year Environmental Action Plan is also organized around the theme of promoting the conservation of biodiversity. In our FY2025 goal, we pledge to expand and enhance actions aimed at Aichi Targets, and we have begun to take action towards this goal.
In FY2022, we continued to examine domestic and international trends to gain insight into post-2020 state of progress, as well as get an overview of TNFD (Taskforce for Nature-related Financial Disclosures) and SBT-N (Science Based Targets for Nature). For example,  we are considering following the LEAP (Locate, Evaluate, Assess, Prepare) approach proposed by the TNFD framework to begin evaluating risks and opportunities. Hereafter, we plan to lay out a roadmap and policies toward 2050.
Encouraging Participation in My Action Declaration
In FY2017 we began promoting participation in the My Action Declaration spearheaded by Keidanren and the Ministry of the Environment. These activities treat biodiversity as something dear to each and every citizen, and their goal is to inspire action to protect biodiversity. The goal was to get 1 million declarations by 2020.
NGK used these activities as an opportunity to raise awareness among employees. We expanded them laterally to NGK Group companies in Japan, and when the activities finished in October 2021, had gathered roughly 6,800 declarations from NGK and all domestic Group companies.
Participating in Related Initiatives
In January 2022, NGK endorsed the Keidanren Declaration on Biodiversity.
Survey of Organisms on Land Owned by NGK
At our recreational facility in the suburbs of Nagoya, we conduct periodic biological surveys of birds, vegetation, and insects in the summer and winter. We have been able to find a diverse array of organisms, and have not discovered any invasive species that would require swift action. This confirms that the land is being managed appropriately. We have also posted the survey results on a panel displayed on-site so that users of the facility will be aware of its biodiversity.
Biological survey
Volunteer Activities by Employees
Each site carries out social contribution activities in cooperation with local governments and NPOs. Some of these activities help to protect biodiversity.
For instance, NGK Okhotsk (in Abashiri, Hokkaido Prefecture) cooperates with the Lake Abashiri Mizu-to-Midori-no-kai (Water and Greenery Association), which works to protect the natural habitat of Asian skunk cabbage, by maintaining this habitat. We have carried out these activities every spring and summer since 2009, in an effort to preserve the local environment.
The NGK Ishikawa Plant and NGK Ceramic Device Ishikawa Plant have also teamed up with local resident to clean up the Neagari coastline in Nomi, Ishikawa Prefecture. Lately, environmental pollution from oceanic plastic waste has become an international concern. Not only is it an eyesore on coastlines, but its impact on ecosystems has become a grave problem. Against the backdrop of such problems, every year we participate in Ishikawa Prefecture's coastal protection initiative "Clean Beach Ishikawa."
Group companies outside Japan are also actively engaging with such initiatives. NGK Electronics Devices Malaysia (in Penang) cooperated with afforestation activities by the Forestry Department Peninsular Malaysia (FDPM) to plant mangroves in the forest reserve in Nibong Tebal, Penang. These activities aim to raise the awareness of employees about the importance of protecting nature and maintaining biodiversity.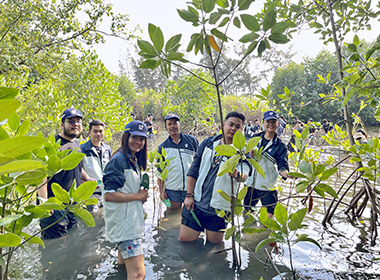 Conservation of Asian skunk cabbage habitat
(NGK Okhotsk)
Coastal cleanup
(NGK Ishikawa Plant and NGK Ceramic Device Ishikawa Plant)
Mangrove planting
(NGK Electronics Devices Malaysia)