Initiatives for a Recycling-Oriented Society
Sustainability
Initiatives for a Recycling-Oriented Society
Effective Use of Resources
The NGK Group is working to increase yield by improving our manufacturing processes, and to curtail waste generation through efforts such as the reuse of raw materials. At the same time, we are focused on promoting resource recycling reducing the final amount externally disposed.
Reducing Discarded Materials
Reducing Discarded Materials in Manufacturing
To meet our 5-year target for reduction of discarded materials, the NGK Group has formulated and is implementing an annual improvement plan, similar to that for CO2 emissions, aimed at reducing the generation of discarded materials.
We achieved reduction rate of 55% per unit sold in FY2022 compared to FY2013, surpassing our target rate of 46% and even reaching our FY2025 target of 50% reduction. This is the result of continual improvement activities by the manufacturing department, including improving yield and raw material utilization rate in production sites, as well as reusing resources within processes.
Our reduction rate against BAU, which indicates the improvement per unit manufactured over FY2013, was 31%. So, we have achieved 27% of our target. We have achieved our target of 30% for the final fiscal year, but will continue to carry out activities in order to maintain it.
In addition, it had previously been difficult for NGK to recycle the plastic drums used to import raw materials after they had been used and worn out. However, through cooperation with a plastic recycling manufacturer, 100% of them are now recycled into the RePlagi series of industrial/construction materials developed and sold by that manufacturer. These are used as replacement square timbers, replacement plates for steel plates, etc.
Waste Emissions (all NGK Group production sites)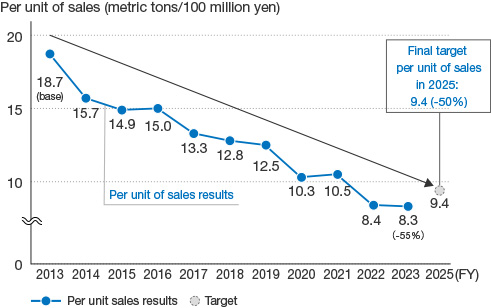 Reduction rate against BAU (all NGK Group production sites)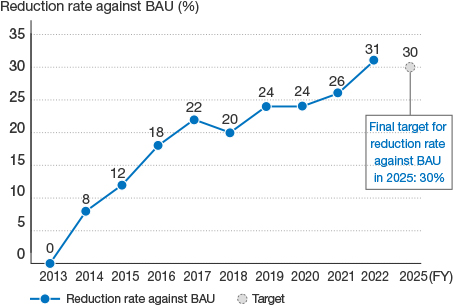 Recycling Discarded Materials
The NGK Group is striving to promote resource recycling by thoroughly sorting materials and looking for methods to recover resources from discarded materials.
Since FY2017, we have shared methods to recover resources from discarded materials and information about disposal companies with all of our production sites in Japan. We are promoting efficient resource recovery while selecting reliable disposal companies.
These continuing efforts have allowed us to maintain a continual domestic recycling rate of 99% or higher from FY2013 onward, as stated among the goals of our 5-year action plan. And we are recycling ceramic fragments and slurry as raw materials for concrete, and other materials for use in roadbeds.
Because conditions vary by region outside of Japan, we are setting targets which take into account the actual state of affairs in each country. We maintain an average recycling rate of more than 90% for our 21 overseas Group companies that are engaged in manufacturing (excluding the three companies for which recycling is difficult).
Water Resource Conservation
Handling and Risk Management of Water Resources
The NGK Group strives for efficient utilization of water and management of risks related to water resources from the perspective of sustainability.
Our Fifth 5-Year Environmental Action Plan, which started in FY2021, establishes water consumption per unit sold for the entire NGK Group as a key indicator. We first aimed to maintain the level of 1,000 m3/100 million yen set in FY2019, when there was no decrease in production due to the impact of COVID-19. We achieved this target in FY2022 at 740 m3/100 million yen.
In addition, the unexpected cessation of water withdrawal from the Meiji Irrigation Weir (Toyota, Aichi Prefecture) in May 2022 impacted our Chita Site, prompting us to push to further strengthen risk management with regards to water sources.
In FY2022, there were no violations of standards or regulations related to wastewater quality at any of our domestic or overseas locations.
Evaluation of Water Risks
With regards to water risks at all production sites both inside and outside Japan, we have used simple methods to assess the degree of water shortage at each site based on the amount of water supplied by rivers in the region where it is located. Meanwhile, we have commissioned a detailed third-party analysis focusing on our overseas sites. In its assessment of water supply and demand risks, this detailed analysis forecasts future water supply by evaluating aquifers, seasonal variations, and the water storage capacity of dams, in addition to the amount of water supplied by rivers. Aside from this, it also analyzes water disaster risks (floods and landslides) and water quality risks (sanitation and ecology), to provide a comprehensive risk assessment.
These efforts have enabled us to ascertain the water risks at all overseas production sites, and share this information with each site.
None of the sites currently faces serious water risks, but we continue to keep an eye on regulatory trends, and are working to improve water utilization efficiency as necessary.
Number of Overseas Production Sites in Regions with Latent Water Risks
Region
No. of sites
Water supply and demand
Water disasters
Vulnerability to water pollution
Current
2040
Public health
Ecosystems
North and Central America
5
0
1
0
0
0
Europe and other regions
5
2
0
0
2
3
China
3
0
0
0
0
0
Asia and Australia
7
0
5
0
1
1
Efficiency of Water Utilization at Group Companies
We created guidelines aimed at optimizing water use (implementation status checklist), and have conducted current situation surveys for efficient water utilization at all production sites inside and outside of Japan since FY2015. Hereafter, we will work to flesh out these guidelines through case research at each Group site, as well as other companies, and promote efforts to optimize water use at our sites. In this way, we are preparing against future deterioration in water supply and demand.
Utilization of Reclaimed Water at NGK Ceramic Device (NCDK) Komaki Plant
The production process for SAW bonded wafers, which are products of our Digital Society Business Group, consumes large quantities of water. So we installed a system which uses ceramic membrane filters to reclaim this water, and began using it in April 2022. Adoption of this system has allowed us to supply approximately 16,000 m3 of reclaimed water, out of the approximately 160,000 m3 of water used during FY2022. Meanwhile, we have introduced an even higher capacity system at the NCDK Fujiyoshida Plant, which uses the same process. So, we are promoting more efficient water use even in Japan, where water supply and demand risks are small.
Water reclamation system in operation at NCDK Fujiyoshida Plant
Approach to a Circular Economy
The European Commission announced its Circular Economy Package in 2015. The package signaled a new policy for resource recycling, with requirements such as maintaining the value of products, materials, and resources for as long as possible and minimizing the generation of waste. Since then, the Act on Promotion of Resource Circulation for Plastics came into effect in Japan in April 2022, and in Europe there are new battery regulations that must be complied with. The NGK Group will investigate trends related to a circular economy, and take appropriate action. We will also collect and disclose examples of resource recycling at Group businesses, and consider policies aimed at achieving the recycling-oriented society set out in our NGK Group Environmental Vision by 2050.