Compliance Promotion Structure
Sustainability
Compliance Promotion Structure
NGK Group Code of Conduct
The NGK Group Code of Conduct has been compiled as a guideline for everyone who works within the NGK Group so that they are aware of what is expected of them in terms of work-related compliance in order to ensure honesty and reliability in our business activities. It has been translated into 11 languages, including English and French. All NGK Group employees will act with high ethical standards according to this code as they fulfill their social responsibilities throughout the entire supply chain to build societal trust in NGK.
At the beginning of FY2021, the Compliance Committee Chairperson delivered an awareness-raising message to the entire NGK Group about strictly adhering to the Code of Conduct. From February through November, NGK and Group companies in Japan posted awareness-raising posters based on a different theme each month to make the Code of Conduct more well-known.
Scope of Application
The NGK Group Code of Conduct applies to all employees and suppliers of the NGK Group. Employees are provided with the NGK Group Code of Conduct and guidebook on putting the Code of Conduct into practice upon joining the company. They also receive job grade-specific training and other instruction.
Non-Compliance Incident Reports
In FY2021, there were no incidents of serious legal non-compliance in the NGK Group.
| FY2017 | FY2018 | FY2019 | FY2020 | FY2021 |
| --- | --- | --- | --- | --- |
| 0 | 0 | 0 | 0 | 0 |
NGK Group Basic Guidelines for Compliance Activities
The idea of what constitutes good compliance activities continues to evolve worldwide amidst a changing social and legal landscape, and the NGK Group requires mechanisms for objectively evaluating and verifying, as well as continually improving, its own activities in light of international norms. It is also important that compliance-related activities as a whole be improved qualitatively by ensuring that compliance-related ideals and values be standardized not only in areas of legal compliance but also in areas such as safety, the environment, and quality. Thus, in April 2021, it was in this context that the new NGK Group Basic Guidelines for Compliance Activities were created in order to codify in writing the NGK Group's basic stance on, and approach to, compliance activities. Based on our NGK Group Basic Guidelines for Compliance Activities, related business groups and divisions are working together to qualitatively improve compliance activities with regard to safety, the environment, quality, exports, competition laws, and the like, so that they are more effective.
Compliance Promotion Structure
The NGK Group has established a Compliance Committee, which reports directly to the president. A Compliance Activity Promotion Subcommittee was established as part of the Compliance Committee to ensure proper execution of the Committee's work.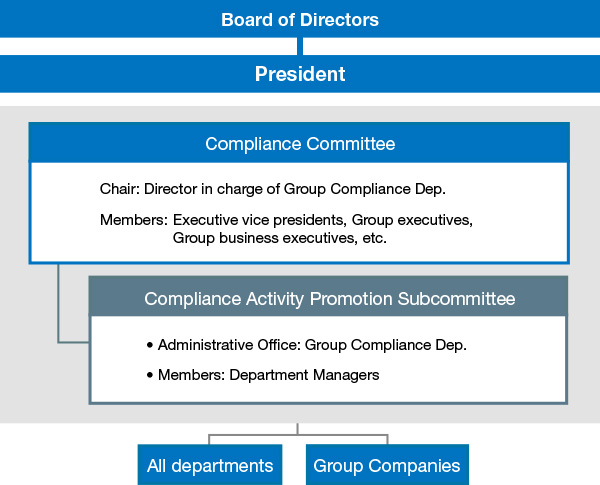 In FY2021, we asked Group companies to select compliance administrators and compliance officers and began discussions with them to establish the foundations of an effective and efficient compliance structure for the entire NGK Group. The Group Compliance Department is also leading the introduction of innovative training formats in each company using hybrid communication that includes group discussions as well as online and in-person meetings in an effort to enhance learning through interactive education. The goal of pursuing these efforts is to make sure that each NGK Group company will be able to independently formulate, implement, confirm effectiveness, and improve compliance measures in the future.
Mission of the Group Compliance Department
Embed the idea of "compliance first" within the corporate culture across the NGK Group
Ensure thorough compliance throughout the NGK Group by promoting compliance activities, which meet international norms and establish mechanisms for ongoing improvement
As for Group companies outside Japan, promote compliance for our globalized operations by obtaining the most up-to-date information regarding applicable laws and social demands in each region
Mission Achievement-Focused Initiatives of FY2021
Promoting awareness of NGK Group Basic Guidelines for Compliance Activities and its utilization in department work
Compliance education (NGK and Group companies in and outside Japan) with a focus on effectiveness
Adapting to global laws and regulations (competition laws, anti-bribery laws, etc.)
Operation and maintenance of a whistleblowing system (In Japan: Adapt to revision of the Whistleblower Protection Act, Outside Japan: Adapt to EU Directive on the Protection of Whistleblowers)
Operational support for quality compliance system