Social Contribution Activities
Sustainability
Social Contribution Activities
The NGK Group is concerned about social issues in all nations and regions. We engage in social contribution activities in response to needs in each region in an aim to become a corporate citizen trusted by local communities.
Basic Approach
The NGK Group promotes social contribution activities based on the following concepts.
Focus of Activities
Centered on people and education, the environment, and community involvement.
Company Activities and Employee Involvement
NGK provides employees with opportunities to experience activities.
NGK proactively encourages individual activities to engender employee satisfaction and a sense of confidence in the company.
Information Disclosure
NGK promotes an understanding of activities and provides activity information to inculcate a social contribution mindset among employees.
The NGK Group's social contribution activities are promoted by the General Affairs Department under the leadership of the ESG Management Committee. NGK collects reports from Group companies in and outside Japan on the social contribution activities they have conducted in various places. In FY2021, a total of 31 reports were received.
Results of Social Contribution Activities
FY2017
FY2018
FY2019
FY2020
FY2021
Social contribution expenditures
300
million yen
302
million yen
273
million yen
296
million yen
533
million yen
Number of social contribution programs
10
10
13
10
16
Number of collaborations with NPOs/NGOs
4
4
4
4
3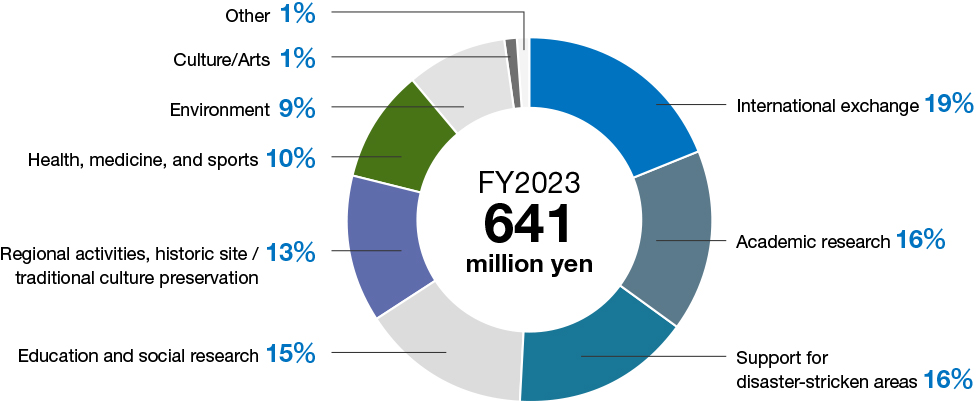 NGK's Social Contribution Activities
Providing Scholarships and Assistance to International Students
In 1998, NGK established the NGK Foundation for International Students to facilitate the cultivation of individuals who will contribute to the development of the international community. Through the Foundation, NGK continues to provide assistance with housing and scholarships to overseas students visiting Japan.
The impetus for the Foundation's establishment stems from gratitude for the warm community support and hospitality shown to NGK's first employees and families posted overseas at the time of its initial overseas expansion back in the 1930s. Our activities are conducted in the hope that the students will feel glad that they came to Japan and develop a fondness for the country. In FY2021, we provided housing to 38 students from four countries, and scholarships (non-repayable) to 21 students from eight countries.
On April 1, 2022, this fund became a Public Interest Incorporated Foundation.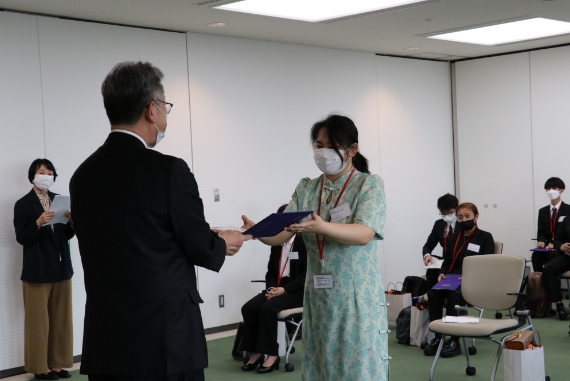 The NGK Foundation for International Students
Exchange Between Supported Students, Communities, and Employees
NGK organizes a variety of activities to provide opportunities for grassroots international relations between supported students, regional communities, and employees. Since the year 2000, we have held annual exchange meetings where international students introduce their native languages and cultures. In FY2021, the exchange meeting was held online using a web conferencing system. During the online exchange meeting, international students acted as lecturers and introduced Chinese culture to children in local children's associations. As of FY2021, a total of 1,006 people have participated. In FY2022, we plan to keep an eye on the situation concerning the COVID-19 pandemic and consider whether to hold the event online or in-person.
Communication After Support Ends
To maintain relationships with international students after support ends, each year, we send out a New Year's greeting card that includes a company status report to former and current students. We also distribute NGK International Friendship Club Members Cards that include our contact information to international students after support ends. In FY2021, we sent New Year's cards with updates on the Foundation and NGK to around 300 students who have received support in the past.
Beginning Japanese Language Learning Support for Foreign Children Living in Japan
In FY2022, NGK began providing support for foreign children living in Komaki, Aichi Prefecture to learn Japanese. We are working in coordination with the private organization Ishiki Cosmos Support Study Group, which is based in the city.
We have provided one of the rooms in our company dormitory for use as a Japanese classroom. And employees who have been stationed overseas leverage their knowledge and skills to work as teaching assistants and help boost the learning language proficiency necessary for studying the subject in Japanese schools.
Aichi Prefecture has the second largest population of foreign residents in Japan, after Tokyo. And it has the largest number of foreign national children requiring Japanese-language instruction. Komaki is one of the municipalities with a particularly large number of foreign national children. NGK began this support as part of our social contribution activities, in part because there are approximately 300 foreign nationals working at NGK Ceramic Device.
In FY2022, we will provide about two hours of learning support, twice a week, for 19 children. Going forward, we will consider expanding the range of ages and localities to which we can offer support.
Support for Wheelchair Tennis
NGK supports wheelchair tennis as part of our support for persons with disabilities and for local sports.
We assist talented wheelchair tennis athletes based in Aichi Prefecture in various ways, such as helping to fund their travel inside Japan and overseas. In 2020, we established a new hard court as well as barrier-free outdoor restrooms at the NGK Group company-operated Moronoki Tennis Club (located in Midori-ku in Nagoya City), which is open to wheelchair tennis athletes and aficionados alike. NGK has also signed an official partnership agreement with the Japan Wheelchair Tennis Association (JWTA), with whom we work to sponsor annual events, competitions, and other opportunities for expanding and developing the sport of wheelchair tennis. In FY2021, we held a support ceremony for wheelchair tennis athletes, an online exchange meeting for wheelchair tennis athletes and employees, and a new mixed style exchange event in which pairs consisting of a wheelchair tennis athlete and a non-handicapped person play tennis together.