Sustainability
Health Management
Basic Approach
The NGK Group strives to promote employees' health through the NGK Group Health Declaration: "Developing dynamic, people-friendly work environments and a health-conscious corporate culture."
Health Declaration of the NGK Group
At NGK, we consider employee health and safety to be of fundamental importance to the company's operation and are, therefore, proactive about developing dynamic, people-friendly work environments and a health-conscious corporate culture, which contribute to better health for each and every employee.
Provide a workspace that is both people-friendly and work-friendly
Cultivate a health-conscious corporate culture for executives, employees, and their families
Promote early detection and early intervention for health concerns
Offer support for mental health and wellbeing
NGK Insulators, Ltd.
President

Health Management Promotion System
Medical professionals, such as Chief industrial physicians and industrial health nurses, and the health management secretariat collaborate with the labor union and the health insurance association to promote health management at NGK. This is overseen by the director responsible for the Human Resources Dept.
Initiatives to Shorten Total Hours Worked
Reducing Long Work Hours
In July 2016, we lowered the maximum amount of overtime work to 70 hours per month (with an upper limit of 300 hours per half-year). To this end, employees are, as a rule, not allowed to work for more than seven days straight and are not allowed to do overtime on their twice-a-week refresh days. If either of these are necessary, they must get permission from their bosses beforehand. To prevent employees from working excessively long hours, there must be an interval period of at least 10 hours between shifts of late-night work.
In FY2021, there were nine cases of overtime work exceeding the company's upper limit, but no cases which violated legal regulations.
Response to Increase in Overtime Work
Every year, NGK discloses actual working hours and leave taken to the labor union. We then exchange ideas and discuss what measures to take.
If it appears that the amount of overtime worked is going to exceed 45 hours, we will first hold a labor-management meeting to determine the reason for the increase in overtime, then implement measures such as evening out work periods and workloads or adding additional workers.
Whenever it is determined that employees are actually working long hours, we discuss countermeasures for each worksite with the labor union.
For employees temporarily stationed overseas, as soon as it is discovered that they are working long hours, they are required to submit a written reason and undergo a health examination. This not only serves to maintain the health of employees temporarily stationed overseas, but allows us to determine the cause of the long working hours from the written report, and implement countermeasures to correct the situation.
Overtime Hours Worked
Item
Scope
Category
FY2017
FY2018
FY2019
FY2020
FY2021
Hours worked / overtime work


(Annual fixed working hours: 1,919 hours)

NGK general employees
Annual actual working hours
2,072
2,081
2,059
2,044
2,044
Average overtime work per month
24.3
25.2
23.7
21.6
23.4
NGK including key personnel (managers)
Annual actual working hours
2,089
2,087
2,056
2,057
2,059
Average overtime work per month
23.4
25.2
23.6
22.0
23.8
NGK manufacturing divisions
Annual actual working hours
2,129
2,129
2,067
2,061
2,056
Average overtime work per month
25.7
27.3
24.4
22.8
24.1
NGK non-manufacturing divisions
Annual actual working hours
2,077
2,050
2,052
2,037
2,038
Average overtime work per month
22.4
24.0
23.2
21.1
23.1
Following Up on Employees Working Long Hours
NGK provides employees working long hours, including non-regular and part-time employees, with ongoing opportunities to meet with industrial physicians for health consultations and exams. The results are reported at monthly Safety and Health Committee meetings at each worksite to thoroughly promote the reduction of overtime work.
| Item | Scope | Category | FY2017 | FY2018 | FY2019 | FY2020 | FY2021 |
| --- | --- | --- | --- | --- | --- | --- | --- |
| Number of employees having consultations | NGK | All | 85 | 243 | 78 | 41 | 37 |
Note: Numbers of people shown are cumulative totals. They also include people who only underwent a health exam.
Promoting Activities Supporting Mental and Physical Health
Four Types of Care for Mental Health
We facilitate the widespread implementation of ongoing mental and physical health promotion activities, centering on the four types of care for mental health promoted by the Ministry of Health, Labour and Welfare (MHLW).
In FY2021, we carried out stress checks for all employees.
These test results were sent to each department and analyzed by group. Based on the results of this analysis, we prepared training for managers of workplaces with comparatively high stress levels in improving interpersonal relations within the workplace and improving the work environment.
Four Types of Care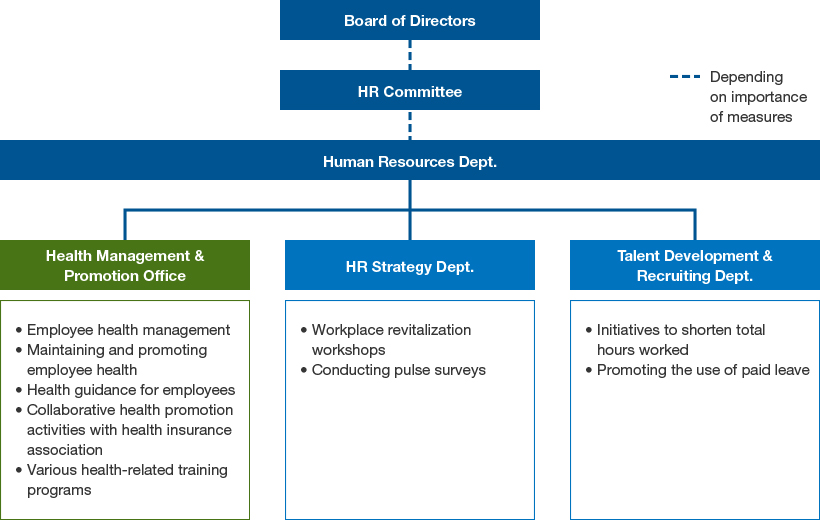 Percentage of Employees Taking Stress Checks
Item
Scope
FY2017
FY2018
FY2019
FY2020
FY2021
Percentage of employees taking stress checks
NGK
93.4
94.9
95.9
94.1
95.2
Percentage with high stress levels
9.7
11.7
10.7
9.9
9.0
Position-Based Mental Care Education
With an emphasis on self-care for new employees and young employees, we strive to deepen understanding of mental health by combining self-care and line care for new supervisors and key personnel.
We provide training for key personnel in areas with high occurrences of employee mental health problems with the goal of detecting and treating problems early on and putting these employees on the road to early recovery.
Position-Based Mental Care Education
Item
Scope
Category
FY2017
FY2018
FY2019
FY2020
FY2021
Number of employees taking position-based mental care education
NGK
All
402
567
614
585
517
New hires
158
192
143
140
105
General employees
181
306
339
362
307
Key personnel
63
69
132
83
105
Promoting Better Health and Wellbeing Among Employees
In addition to annual health exams, NGK holds collaborative health promotion activities* with the health insurance association in efforts to promote better health and physical strength among employees. These activities include health lectures, health declaration challenges, the use of health apps for smartphones, physical strength measuring events, walking-age assessment events and related lectures, and recreational walks. New initiatives in FY2021 included streaming online fitness videos, holding online seminars on the themes of Dietary and Exercise Guidance and Exercising While Doing Daily Activities, and a quit smoking campaign.
An initiative in which health insurance associations work closely with companies and use their respective strengths to create a positive work environment by efficiently and effectively promoting the health and wellbeing of employees and their families.
Percentage of Employees Taking Health Exams
Item
Scope
Category
FY2017
FY2018
FY2019
FY2020
FY2021
Target
Periodic health exam*1
NGK
Total target employees
4,266
4,683
4,936
4,967
4,857
-
Number taking health exam
4,230
4,601
4,855
4,894
4,728
Number of exceptions*2
36
82
81
73
129
Health exam ratio (%)
100
100
100
100
100
100
1 Including chest X-rays to catch the early signs of tuberculosis
2 Employees on maternity leave, temporary retirement, etc.
Percentage of Employees Taking Metabolic Syndrome Checkup
Item
Scope
FY2017
FY2018
FY2019
FY2020
FY2021
Target
Percentage of employees taking metabolic syndrome checkups
NGK
86.3
86.3
87.5
85.7
Being compiled
-
Percentage with metabolic syndrome
13.1
14.3
13.2
15.6
Percentage under medical guidance
58.6
56.7
64.6
57.5
Number of Participants in Health Promotion Initiatives
Unit: Persons
| Item | Scope | FY2017 | FY2018 | FY2019 | FY2020 | FY2021 |
| --- | --- | --- | --- | --- | --- | --- |
| Health lectures | NGK managers | 200 | 270 | 300 | - | - |
| Health declaration challenge | NGK employees | 1,306 | 1,590 | 1,199 | 1,560 | 1,505 |
| Smartphone health apps | NGK employees and families | 522 | 742 | 1,127 | 1,134 | 1,511 |
| Physical dynamism checkups | NGK employees | 192 | 191 | - | - | - |
| Walking-age assessments and lectures | NGK employees | - | - | 64 | - | - |
| Recreational walks | NGK employees and families | 223 | 163 | 223 | - | - |
Note: Items marked with a "—" were not carried out in the year in question.
Percentage of Smokers
| Item | Scope | FY2017 | FY2018 | FY2019 | FY2020 | FY2021 |
| --- | --- | --- | --- | --- | --- | --- |
| Smoking ratio (%) | NGK | 24.6 | 25.0 | 26.0 | 23.5 | 22.2 |
Response to Infectious Diseases and Other Global Health Problems
There are approximately 450 NGK employees and family members posted overseas, and while the number of business trips by our employees in Japan decreased due to Covid-19, their number is steadily increasing. So we are cognizant of the possibility of their contracting infectious diseases. To reduce this risk, employees posted overseas and their families, as well as those taking business trips, are provided with health management training by specialists. Participants learn the fundamentals of infectious diseases, are advised to take immunization shots, and are taught ways to avoid contracting Infectious diseases such as HIV/AIDS, malaria, and tuberculosis.
During the influenza season from autumn to winter, employees posted overseas are encouraged to get vaccinated locally. We also offer vaccinations at the in-company clinic.
In addition, from June through March of FY2021, we provided workplace vaccinations for three rounds of Covid-19 vaccine injections to approximately 6,000 people. We also carried over our efforts from FY2020 in identifying close contacts of those infected with Covid-19, placed limits on office attendance, encouraged employees to eat without talking, and distributed free masks.
Outstanding Health and Productivity Management Company
Since 2021, the NGK Health Insurance Association has been included in the newly-established "Bright 500" list under the small and medium sized enterprise category of the Health and Productivity Management Organization Recognition Program for two years in a row.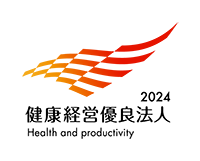 Aichi Prefecture Advanced Health Management Company
NGK and the NGK Health Insurance Association have earned a designation as an Advanced Health Management Company by the Aichi prefectural government. The aim of this program is to recognize companies and organizations that aggressively pursue health management, in the process increasing the number of companies taking action towards a healthy workforce and increasing the healthy life expectancy of the prefecture's citizens.